Surgeon Spotlight: Dr. Douglas Johnston
Northwestern Medicine, Chicago, Illinois - Sponsored Post
Douglas R. Johnston, MD, is an attending cardiac surgeon at Bluhm Cardiovascular Institute at Northwestern Memorial Hospital in Chicago, Illinois. Dr. Johnston was recently named surgical director of Bluhm Cardiovascular Institute and chief of cardiac surgery at Northwestern University Feinberg School of Medicine. His clinical interests include complex reoperations, minimally invasive aortic and mitral valve surgery, aortic and endovascular surgery, pericardial disease and radiation associated cardiac disease. He has performed more than 4,000 cardiac surgeries in his career, 3,000 involving some form of heart valve disease repair or replacement.
"I really think it is important for patients with heart valve disease to have all the options for treatment presented to them, and to understand that there is not a "one size fits all" treatment option. On one hand, patients may benefit from rapid recovery and small incision surgery which allow them to return to activity quickly, but I also want to see patients who have difficult, complex valve problems including reoperations. If you have been told that you have a challenging case or are inoperable, I want to see you," states Johnston.
Dr. Johnston became interested in cardiac surgery after seeing his first open heart surgery case during an elective rotation in medical school. He was immediately hooked. "Cardiac surgery is an amazing combination of surgical skill and physiology, and it is the most challenging branch of surgery that I could imagine undertaking. From that first time I experienced cardiac surgery, I really could not think about doing anything else."
When it comes to heart valve surgery, one of Dr Johnston's overarching interests is the appropriate management of cardiac disease over the lifetime of the patient. "Bicuspid aortic valve disease, and in the larger sense aortic valve disease and aortic root disease, is a disease of young patients, who are otherwise healthy, active people. Our care for these patients is so important because the clinical decisions we make today carry through for decades for the patient and their families. When do we operate, we must be very thoughtful about which procedure to do and WHEN, with consideration that the patient may need multiple procedures in their lifetime. This is where the multidisciplinary expertise at Northwestern Medicine shines. Our goal is for patients to lead long healthy lives with a normal lifestyle."
Dr. Johnston joins Northwestern Medicine from Cleveland Clinic where he served as vice chair of the Department of Thoracic and Cardiovascular Surgery, program director of the thoracic surgery residency and advanced cardiothoracic fellowships and surgical director of the Aortic Valve Center.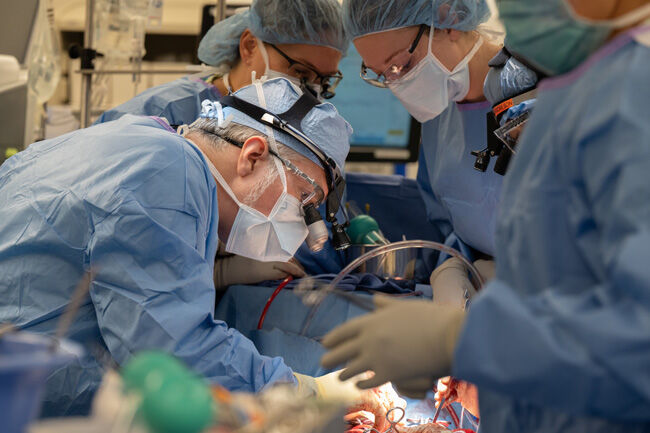 Dr. Johnston earned his medical degree from Harvard Medical School in 1998 before completing his clinical training in general surgery at Massachusetts General Hospital in Boston in 2005. He was awarded the Edward D. Churchill Fellowship, the American College of Surgeons Resident Research Scholarship and an NIH National Research Service Award for his research in the immunology of heart and lung transplantation. He trained in thoracic and cardiovascular surgery at the Cleveland Clinic, including a focused fellowship in endovascular surgery. In 2008, he joined the Cleveland Clinic as a staff surgeon.

Dr. Johnston and his wife met at Massachusetts General Hospital. He was in his residency, and she was a nurse. The two recently relocated to the Chicagoland area. "All of the children are out of the house now, so we look forward to our annual family trip that includes "anything outdoors.""

He is also a private pilot. "Flying is like heart surgery for me. Once I got into it, I was hooked."

To contact Dr. Douglas Johnston, please click here or call (312) 757-8837.

Page last updated: January 1, 2023