"Advancements in Aortic Valve Surgery: TAVI" Webinar Transcript
By Adam Pick - Patient, Author & HeartValveSurgery.com Founder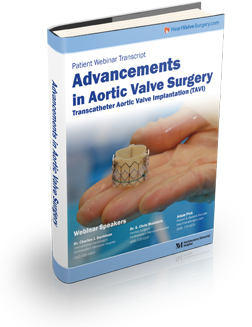 On November 7, 2012, Northwestern Memorial Hospital and HeartValveSurgery.com hosted a special webinar titled, "Advancements in Aortic Valve Surgery: TAVI".
The webinar -- which had over 150 patient and caregiver registrants -- included a comprehensive overview of transcatheter aortic valve implantation (TAVI) and an interactive questions-and-answers session.
To download the webinar transcript, simply insert your email address and click the "Instant Download" button below.