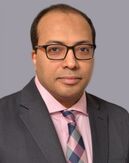 Dr. Sameh Said
Dr. Sameh Said

Heart Surgeon

Masonic Children's Hospital (University of Minnesota)
2450 Riverside Avenue S, East Building, MB 539
Minneapolis, MN 55454
About Dr. Sameh Said,
Heart
Valve

Surgeon

Hello! My name is Dr. Sameh Said and I am a cardiac surgeon having graduated from Alexandria Medical School in 1998. To date, I have performed approximately over 3,000 cardiac surgeries, of which more than 2,000 involved heart valve procedures. I regularly perform surgery at hospitals including Masonic Children's Hospital (University of Minnesota) and M Health Fairview Clinics & Surgery Center - Minneapolis (University of Minnesota). Read more...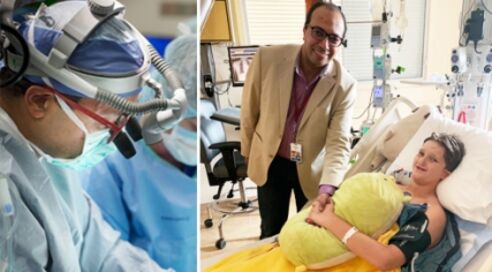 19 Patient Reviews for
Dr. Said
"Dr. Said was wonderful! He was so informative and patient during our pre-surgery video call. After her operation he was very thorough explaining what he did during the procedure. We are absolutely thrilled with the outcome!
Dr. Said was also very kind to us every time he checked in on her during our hospital stay, and he always made sure to answer all of our questions. We couldn't be more satisfied with his care! We are so thankful for what he did for our daughter!"
-- Kaylin Faust, Mitral Valve, Valve Repair, 11/02/2020

"Trustworthy - I felt I could trust him with my son's life. Of course I had few options because his heart needed repair but from the moment Dr. Said walked in the door, I felt at ease.
He described what would happen in solid detail. I didn't feel too overwhelmed listening to him. I know this because I could repeat back to him what I got out of his medical jargon & he comfortably broke it down for me to truly comprehend. I appreciate this so much being foreign from the medical world.
Besides being incredibly brilliant, he also had wonderful bedside manner. He made my son feel "seen & heard" as well as his parents. I didn't once feel like I was being treated as another name on another file. I felt a mutual respect which doesn't always come naturally for doctors/surgeons.
When my son had to have a SECOND open heart surgery within a week from the first, it was a very difficult moment. However Dr. Said made the news easier to handle because of his confidence. He was knew what happened, he knew how to fix it & he knew he could do it. What more could I ask for from a surgeon as a mom? Dr. Said will forever be someone I keep close in my heart. He will be treasured by anyone who works with him."
-- Shannon Hennen, Aortic Valve, Pulmonary Valve, Tricuspid Valve, Valve Repair, Valve Replacement, 07/02/2020

> See 17 more patient testimonials
My Specialities &
Clinical Interests
My heart surgery specialties include:
Cardiac surgery in children (pediatric) and adults
Aortic valve repair and replacement including the Ross Procedure and Ozaki Procedure
Mitral, Tricuspid and Pulmonary valve repair and replacement
In addition, I have research and clinical interests specific to:
Fetal cardiac interventions
Pediatric mechanical circulatory support
Regenerative medicine
Education, Training & Certificates
Dr. Sameh Said, heart surgeon, graduated from Alexandria Medical School in 1998.
After graduating from medical school, Dr. Said completed a Cardiothoracic Surgery Residency at the Department of Cardiothoracic Surgery, Alexandria University, Faculty of Medicine (Egypt) in 2003. Then, Dr. Said completed an Advanced Cardiovascular Surgery Fellowship at the Mayo Clinic in Rochester, Minnesota in 2008.
Dr. Said also completed an Integrated and Thoracic Surgery Residency at the Mayo Clinic, Minnesota in 2014. To pursue a speciality in pediatric cardiac surgery, Dr. Said completed a Congenital Pediatric Cardiac Surgery Fellowship at Stanford University in Stanford, California in 2015.
Throughout his career in heart surgery, Dr. Said has received several accolades and acknowledgments including:
* Honor Society (2020)
* Winner of the Young Fellow Association (YFA) Communications Committee Essay Contest - American Colleague of Surgeons (2020)
* Best Teacher-Student Award: Scholars World Heart Summit. Tokyo, Japan (2019)
* Top Doctors, Minnesota (2019)
* Western Thoracic Surgical Association (WTSA) Traveling Fellowship (2018)
* Adult Cardiac Surgery Moderated Poster Competition - American Association for Thoracic Surgery, Baltimore, Maryland (2016)
* Third Place Best Poster - Resident Poster Competition - Society for Vascular Surgery, American Association for Vascular Surgery, Boston, Massachusetts (2014)
* Dr. O.T. Clagett Resident Travel Award - Mayo School of Graduate Medical Education, Mayo Clinic College of Medicine, Rochester, Minnesota - For Excellence in Clinical and Academic Work (2013)
*2013 AATS Resident Critical Care Scholarship - AATS Graham Research Foundation, Washington, DC
* Winner of Minnesota State Trauma Resident Paper Competition - Minnesota Surgical Society, Red Wing, Minnesota (2011)
*Hawley H. Seiler Residents Competition Award - Southern Thoracic Surgical Association, San Antonio, Texas (2011)
* Dr. Kaare K. Nygaard Travel Award - Mayo Clinic Graduate School of Medicine and Science, Rochester, Minnesota, Mayo Clinic General Surgery Residency Program - For Excellence in Clinical Research (2011)
Dr. Said is board-certified by the American Board of Surgery, the American Board of Thoracic Surgery, and the American Board of Thoracic Surgery in Congenital Cardiac Subspecialty.
Schedule Appointment

with Dr. Sameh Said, MD

To schedule an appointment with Dr. Said, you can:
Call

(888) 459-4782

right now
Request an appointment by clicking here.
The office of Dr. Said is located at 2450 Riverside Avenue S, East Building, MB 539, Minneapolis, MN 55454. To get driving directions to this office, please click the map below.
> Click for driving directions to Dr. Said's office.
News & Online References Featuring Dr. Sameh Said
Here is the latest news featuring Dr. Sameh Said:
Page last updated: December 10, 2020