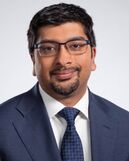 Dr. Nimesh Desai
Dr. Nimesh Desai

Heart Surgeon

Hospital of the University of Pennsylvania
3400 Spruce Street
Philadelphia, PA 19104
About Dr. Nimesh Desai,
Heart
Valve

Surgeon

Hello! My name is Dr. Nimesh Desai and I am a cardiac surgeon having graduated from University of Western Ontario in 2000. To date, I have performed approximately 4,000 cardiac surgeries, of which 2,500 involved heart valve procedures. I regularly perform surgery at Hospital of the University of Pennsylvania. Read more...
4 Patient Reviews for
Dr. Desai
"Dr. Nimesh Desai offered me among the best experiences I've ever had with healthcare. He combined clear professionalism and high expertise (including a national profile and scholarly contributions) with a compassionate and personable bedside manner. His care before, during, and after surgery was superb.
As I experience phenomenal quality of life a year after aortic valve surgery, I'm regularly grateful that I was referred to Dr. Desai--and that it was he who literally held my heart in his hands, with all the physical and symbolic implications that entails--and gave me a new lease on life. "
-- Michael King, Aortic Valve, Valve Replacement, Mini Sternotomy, 11/13/2020

"When I met Dr. Desai, I asked him, "How difficult is my surgery going to be." He said that for most surgeons it was difficult. But, for him, he performed this type of heart valve surgery all the time.
I knew that he was the man I needed. I was right! He truly is the best, he saved my life!"
-- Ron Seidorf , Aortic Valve, Valve Replacement, 06/19/2019

> See 2 more patient testimonials
My Specialities &
Clinical Interests
My heart surgery specialties include:
Valve-sparing root surgery
Bicuspid aortic valve repair and aneurysm surgery
Minimally invasive and transcatheter aortic valve surgery
In addition, I have research and clinical interests specific to:
Quality and outcomes in valve and aortic surgery
Clinical trials and new therapies in valve and aortic surgery
Innovation of new technology for minimally invasive valve surgery
Education, Training & Certificates
Dr. Nimesh Desai, heart surgeon, graduated from University of Western Ontario in 2000.
After medical school, Dr. Desai completed an Integrated Cardiac Surgery Residency at University of Toronto Affiliated Hospitals in 2008. Dr. Desai also completed an Advanced Aortic and Endovascular Surgery Fellowship at University of Pennsylvania in 2009.
Dr. Desai earns a Specialist Certificate in Cardiac Surgery and is a Fellow of the Royal College of Physicians and Surgeons of Canada.
During his career, Dr. Desai has received several awards and special credentials including:
*Director, Thoracic Aortic Surgery Research Program
*Co-Director, Thoracic Aortic Surgery Program
*Chair, STS Aortic Task Force
*Chair, STS/ACC TVT Registry Risk Modeling Subcommittee
*Steering Committee, Delaware Valley Society of Thoracic Surgeons
*Senior Fellow, Leonard Davis Institute of Health Economics
Schedule Appointment

with Dr. Nimesh Desai, MD

To schedule an appointment with Dr. Desai, you can:
Call

(888) 640-6922

right now
Request an appointment by clicking here.
The office of Dr. Desai is located at 3400 Spruce Street, Philadelphia, PA 19104. To get driving directions to this office, please click the map below.
> Click for driving directions to Dr. Desai's office.
Watch Educational Video with Dr. Nimesh Desai
Learn about heart valve surgery from Dr. Desai in this video:
Patient Webinar: Advances in Aortic Valve & Aneurysm Surgery with Dr. Nimesh Desai and Dr. Joseph Bavaria
News & Online References Featuring Dr. Nimesh Desai
Here is the latest news featuring Dr. Nimesh Desai:
Page last updated: July 16, 2022