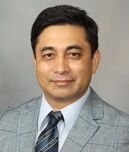 Dr. Malakh Shrestha
Dr. Malakh Shrestha

Heart Surgeon

Mayo Clinic Hospital
200 First Street SW
Rochester, MN 55905
About Dr. Malakh Shrestha,
Heart
Valve

Surgeon

Hello! My name is Dr. Malakh Shrestha and I am a cardiac surgeon having graduated from G. Kar Medical College, Calcutta University in 1992. To date, I have performed approximately 5,000 cardiac surgeries, of which more than 2,000 involved heart valve procedures. I regularly perform surgery at Mayo Clinic Hospital. Read more...
1 Patient Review for
Dr. Shrestha
"I can never thank you enough for repairing my heart and extending my life so I can do the things I love. You and your team showed the upmost care, compassion, diligence and devotion to my treatment and it has exceeded anything I could ever have expected. I'm so very grateful to have been in your hands for I truly believe you saved my life!"
-- Ann Lanaux, Aortic Valve, Mitral Valve, Valve Repair, Root Replacement, 01/06/2023

My Specialities &
Clinical Interests
My heart surgery specialties include:
Heart valve repair & replacement - specifically aortic valve
Aortic aneurysm & dissection surgery, valve sparing aortic root replacement
Cardiac reoperations
In addition, I have research and clinical interests specific to:
Minimally invasive surgery
Aortic valve sparing root replacements
Elephant trunk procedures
Education, Training & Certificates
Dr. Malakh Shrestha, heart surgeon, graduated from G. Kar Medical College, Calcutta University in 1992.
After medical school, Dr. Shrestha completed a residency in 2002 at Hannover Medical School in Hannover, Germany.
Dr. Shrestha is board certified by German Boards, State of Lower Saxony, UK GMC and the Nepal Medical Council.
During his career, Dr. Shrestha has received may awards and acknowledgements including the following:
* "Nepal Vidya Bhushan" from the President of the Republic of Nepal, 1st Class with Gold Medal 2008 - Government of Nepal, Nepal
* "Hans Borst Prize" best presentation in aortic surgery - European Association for Cardiothoracic Surgery, Barcelona, Spain
Schedule Appointment

with Dr. Malakh Shrestha, MD

To schedule an appointment with Dr. Shrestha, you can:
Call

(507) 353-4977

right now
Request an appointment by clicking here.
The office of Dr. Shrestha is located at 200 First Street SW, Rochester, MN 55905. To get driving directions to this office, please click the map below.
> Click for driving directions to Dr. Shrestha's office.
Watch Educational Video with Dr. Malakh Shrestha
Learn about heart valve surgery from Dr. Shrestha in this video:
Dr. Shrestha's Patient Success Story: How A Son's Illness Helped Save Dad's Life
News & Online References Featuring Dr. Malakh Shrestha
Here is the latest news featuring Dr. Malakh Shrestha:
Page last updated: November 1, 2023