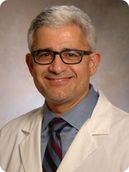 Dr. Husam Balkhy
Dr. Husam Balkhy

Heart Surgeon

University of Chicago Medicine
5841 S. Maryland Ave.
Chicago, IL 60637
About Dr. Husam Balkhy,
Heart
Valve

Surgeon

Hello! My name is Dr. Husam Balkhy and I am a cardiac surgeon having graduated from KAU College of Medicine, Jeddah, Saudi Arabia in 1987. To date, I have performed approximately 4,000 cardiac surgeries, of which 1,800 involved heart valve procedures. I regularly perform surgery at University of Chicago Medicine. Read more...

53 Patient Reviews for
Dr. Balkhy

"Excellent is the best word that I can think of to describe my treatment by Dr. Balkhy."
-- Joe Gimbel, heart valve surgery patient
"Dr. Balkhy and his team define professionalism and expertise. Friendly, knowledgeable, consistent, cohesive, and experts in their field. I don't have any other heart surgery to compare it to, but Dr. Balkhy and his team made this process and overall experience incredibly smooth.
Dr. Balkhy sat with me before the surgery for almost an hour and answered every question until I had no more questions. The entire nursing staff was gelled together as one unit. They continually worked as a cohesive team before and after surgery. The robotic surgery itself was incredibly smooth, considering the procedure. I opted for a minimally-invasive approach with Dr. Balkhy instead of a sternotomy.
I was home two days after surgery and back in the gym doing light workouts about a week and a half post-op. I'm now five weeks out and am close to 100%. Going to the gym daily and increasing my lung capacity as my left ventricle hopefully recalibrates to a smaller size.
I highly recommend Dr. Balkhy and his team; his bedside manner is stellar, his cutting-edge expertise is world-class, and he has no arrogance or hubris. The best possible combination for a surgeon. "
-- Jay Reagan, Aortic Valve, Valve Replacement, Robotic Surgery, 01/26/2023

> See 52 more patient testimonials
My Specialities &
Clinical Interests
My heart surgery specialties include:
Robotic cardiac surgery including mitral valve surgery
Minimally invasive aortic valve surgery
Atrial fibrillation treatment
In addition, I have research and clinical interests specific to:
Robotic cardiac surgery
Minimally invasive surgery for atrial fibrillation
Totally endoscopic coronary surgery
Education, Training & Certificates
Dr. Husam Balkhy, heart surgeon, graduated from KAU College of Medicine, Jeddah, Saudi Arabia in 1987.
Dr. Balkhy completed his General Surgery Residency at Tufts New England Medical Center in 1994. He then completed a Vascular Surgery Fellowship at Lahey Clinic in 1995 and a Cardiothoracic Surgery Fellowship at Tufts New England Medical Center in 1997.
In addition to being board certified in cardiothoracic surgery, Dr. Balkhy was awarded the Spirit of Caring in Health Innovation Award by Community Memorial Hospital.
Schedule Appointment

with Dr. Husam Balkhy, MD

To schedule an appointment with Dr. Balkhy, you can:
Call

(773) 757-5030

right now
Request an appointment by clicking here.
The office of Dr. Balkhy is located at 5841 S. Maryland Ave., Chicago, IL 60637. To get driving directions to this office, please click the map below.
> Click for driving directions to Dr. Balkhy's office.
News & Online References Featuring Dr. Husam Balkhy
Here is the latest news featuring Dr. Husam Balkhy:
Page last updated: March 3, 2023