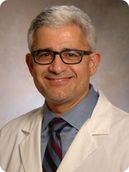 Dr. Husam Balkhy
Dr. Husam Balkhy

Heart Surgeon

University of Chicago Medicine
5841 S. Maryland Ave.
Chicago, IL 60637
About Dr. Husam Balkhy,
Heart
Valve

Surgeon

Hello! My name is Dr. Husam Balkhy and I am a cardiac surgeon having graduated from KAU College of Medicine, Jeddah, Saudi Arabia in 1987. To date, I have performed approximately 4,000 cardiac surgeries, of which 1,800 involved heart valve procedures. I regularly perform surgery at University of Chicago Medicine. Read more...

56 Patient Reviews for
Dr. Balkhy

"Excellent is the best word that I can think of to describe my treatment by Dr. Balkhy."
-- Joe Gimbel, heart valve surgery patient
"On March 28, 2023, I got a robotic valve repair surgery to be done in another state & doctor and unfortunately, it didn't happen due to my iliac vein ruptured before they start the surgery. So, I ended up with robotic ports placed and unplaced, and I got a damaged right groin to operate again.
I left that hospital from Georgia to Florida within 9 hours drive ahead of us, with a big hematoma like 4 inches by 5 inches around my groin area. I was about to die. Thank God the surgeon didn't continue to surgery due to massive bleeding. I was down, demoralized, and told that I have to have sternotomy only... Then I decided to call the number one doctor in Turkey (the country where I was born). Dr.Cem Alhan told me to go only to Dr. Balkhy. At that moment I understood that Dr. Balkhy is not just No. 1 in the United States, also he is very well respected worldwide.
His reputation precedes himself worldwide. I immediately called his office and told my story, with my Turkish reference. I thought he won't take me because I am not operable as robotically. In June, I came to see him with my wife at BEAUTIFUL UNIVERSITY OF CHICAGO HOSPITAL.
We were taken even early, since we have a flight and Dr. Balkhy spent 45 minutes with us, with all positive, calm talk.
We were very happy that he can do the procedure. Arranged our hotel next to the hospital and a wonderful park. July 31st, like two days ago, we literally walked to the hospital to have surgery from the park road! Incredible!
Beautiful hospital, and people. Dr. Balkhy's team is so wonderful and so connected, everything went so smoothly, definitely, there was no anxiety for me as a patient.
I passed out and woke up and all was done. I was literally fine when I woke up. Amazing care by ICU... Care that is unmatched. Hard to explain it. Dr. Balkhy and his team repaired my valve. Now only the second day, I am showered, and dressed to go out with my wife to have a nice dinner and a museum time.
I want to thank Dr. Balkhy and his amazing team to put me back on track in 2 days only. I can't believe from my failed surgery to this recovery it happened so fast with DR. BALKHY's GOLDEN HANDS.
I named him GOLDEN HANDS from now on. I think he is the best robotic heart surgeon in the world. I can't express my appreciation to him and his team... I am glad that I will be back playing with my 5-year-old son in a few days without making him upset that I can't move or such. Thank you, thank you, thank you! GOLDEN HANDS... DR BALKHY. "
-- Matthew Sarac, Mitral Valve, Valve Repair, 07/31/2023

> See 55 more patient testimonials
My Specialities &
Clinical Interests
My heart surgery specialties include:
Robotic cardiac surgery including mitral valve surgery
Minimally invasive aortic valve surgery
Atrial fibrillation treatment
In addition, I have research and clinical interests specific to:
Robotic cardiac surgery
Minimally invasive surgery for atrial fibrillation
Totally endoscopic coronary surgery
Education, Training & Certificates
Dr. Husam Balkhy, heart surgeon, graduated from KAU College of Medicine, Jeddah, Saudi Arabia in 1987.
Dr. Balkhy completed his General Surgery Residency at Tufts New England Medical Center in 1994. He then completed a Vascular Surgery Fellowship at Lahey Clinic in 1995 and a Cardiothoracic Surgery Fellowship at Tufts New England Medical Center in 1997.
In addition to being board certified in cardiothoracic surgery, Dr. Balkhy was awarded the Spirit of Caring in Health Innovation Award by Community Memorial Hospital.
Schedule Appointment

with Dr. Husam Balkhy, MD

To schedule an appointment with Dr. Balkhy, you can:
Call

(773) 757-5030

right now
Request an appointment by clicking here.
The office of Dr. Balkhy is located at 5841 S. Maryland Ave., Chicago, IL 60637. To get driving directions to this office, please click the map below.
> Click for driving directions to Dr. Balkhy's office.
Watch Educational Video with Dr. Husam Balkhy
Learn about heart valve surgery from Dr. Balkhy in this video:
Surgeon Insights: Heart Valve Disorders and Coronary Artery Disease
News & Online References Featuring Dr. Husam Balkhy
Here is the latest news featuring Dr. Husam Balkhy:
Page last updated: July 18, 2023