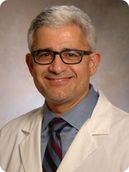 Dr. Husam Balkhy
Dr. Husam Balkhy

Heart Surgeon

University of Chicago Medicine
5841 S. Maryland Ave.
Chicago, IL 60637
About Dr. Husam Balkhy,
Heart
Valve

Surgeon

Hello! My name is Dr. Husam Balkhy and I am a cardiac surgeon having graduated from KAU College of Medicine, Jeddah, Saudi Arabia in 1987. To date, I have performed approximately 4,000 cardiac surgeries, of which 1,800 involved heart valve procedures. I regularly perform surgery at University of Chicago Medicine. Read more...

47 Patient Reviews for
Dr. Balkhy

"Excellent is the best word that I can think of to describe my treatment by Dr. Balkhy."
-- Joe Gimbel, heart valve surgery patient
"Dr. Balkhy is excellent. Top notch. Everyone in his office was extremely helpful, kind (especially to someone with anxiety) and very professional. They reviewed all of the pre, surgical and post processes with me and answered the questions I had. They did so as follow-up to the surgery as well. I'm good for I hope another 30 years--I hope-- (I'm 70 now) thanks to Dr. Balkhy. I can highly recommend Dr. Balkhy and his team.
P.S. Dr. Balkhy and staff asked if I used all the pain pills he gave me. I shared that, thanks to the minimally invasive robotic surgery, I didn't use any of the pills and didn't experience any pain, just a little discomfort."
-- Mick Weltman, Mitral Valve, Valve Repair, 01/18/2022

> See 46 more patient testimonials
My Specialities &
Clinical Interests
My heart surgery specialties include:
Robotic cardiac surgery including mitral valve surgery
Minimally invasive aortic valve surgery
Atrial fibrillation treatment
In addition, I have research and clinical interests specific to:
Robotic cardiac surgery
Minimally invasive surgery for atrial fibrillation
Totally endoscopic coronary surgery
Education, Training & Certificates
Dr. Husam Balkhy, heart surgeon, graduated from KAU College of Medicine, Jeddah, Saudi Arabia in 1987.
Dr. Balkhy completed his General Surgery Residency at Tufts New England Medical Center in 1994. He then completed a Vascular Surgery Fellowship at Lahey Clinic in 1995 and a Cardiothoracic Surgery Fellowship at Tufts New England Medical Center in 1997.
In addition to being board certified in cardiothoracic surgery, Dr. Balkhy was awarded the Spirit of Caring in Health Innovation Award by Community Memorial Hospital.
Schedule Appointment

with Dr. Husam Balkhy, MD

To schedule an appointment with Dr. Balkhy, you can:
Call

(773) 757-5030

right now
Request an appointment by clicking here.
The office of Dr. Balkhy is located at 5841 S. Maryland Ave., Chicago, IL 60637. To get driving directions to this office, please click the map below.
> Click for driving directions to Dr. Balkhy's office.
News & Online References Featuring Dr. Husam Balkhy
Here is the latest news featuring Dr. Husam Balkhy:
Page last updated: March 7, 2022