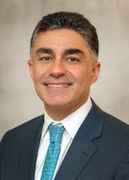 Dr. Arash Salemi
Dr. Arash Salemi

Heart Surgeon
RWJBarnabas Health
94 Old Short Hills Road
Livingston, NJ 07039
About Dr. Arash Salemi,
Heart
Valve

Surgeon

Hello! My name is Dr. Arash Salemi and I am a cardiac surgeon having graduated from Weill-Cornell Medical College in 1997. To date, I have performed approximately 5,000 cardiac surgeries, of which 3,000 involved heart valve procedures. I regularly perform surgery at RWJBarnabas Health. Read more...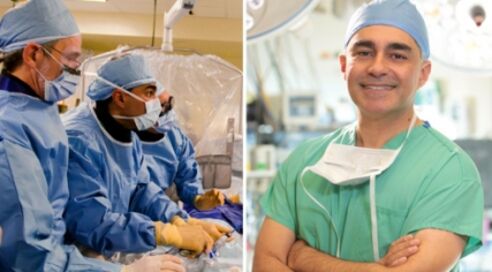 4 Patient Reviews for
Dr. Salemi
"Excellent. Great result."
-- Peter Luce, Aortic Valve, Valve Replacement, 07/16/2018

"I had congestive heart failure. I had trouble walking and going up the stairs. My aortic valve was so tight. Then, I had my aortic valve replaced. I have more energy now than I have had in years!!!"
-- Carolyn Levine, Aortic Valve, Transcatheter, 03/05/2016

> See 2 more patient testimonials
My Specialities &
Clinical Interests
My heart surgery specialties include:
Minimally Invasive Adult Cardiothoracic Surgery
Aortic and Mitral Valve Repair and Replacement
Transcatheter Heart Valve Surgery
In addition, I have research and clinical interests specific to:
Evaluation of Transcatheter Aortic Valve Replacement Compared to SurveilLance for Patients with AsYmptomatic Severe Aortic Stenosis: EARLY TAVR trial
Expanded Clinical Study of the Tendyne Mitral Valve System
Validation of a personal fitness tracker as a predictor and motivational tool in cardiac surgery
Education, Training & Certificates
Dr. Arash Salemi, heart surgeon, graduated from Weill-Cornell Medical College in 1997.
After medical school, Dr. Salemi completed his residency in both General Surgery and Cardiothoracic Surgery at New York Presbyterian Hospital/Cornell Medical Center. Dr. Salemi went on to complete a fellowship at the Cleveland Clinic in cardiovascular surgery, specializing in valve repair, before returning to Cornell Medical Center to practice for several years. He completed postgraduate specialty training in endovascular surgery at the University of Paris in France and at the University Vita Salute-San Raffaele in Milan, Italy.
Today, Dr. Salemi is the Clinical Chairman of Cardiothoracic Surgery at RWJBarnabas Health (Northern Region). Dr. Salemi has a strong interest in structural heart disease. He regularly performs surgical and non-invasive heart valve procedures including transcatheter aortic valve replacement (TAVR). He has performed over 2,000 TAVR procedures.
Dr. Salemi teaches didactics and has proctored cases at over 50 centers across the U.S. He is a member of the Review Board for the seminal Partner Trial for TAVR and is involved in the development of novel techniques for transcatheter mitral valve replacement (TMVR) including Abbott Tendyne.
Dr. Salemi is a member of many medical societies including the Society of Thoracic Surgeons, the Heart Valve Society of America, and the American College of Surgeons. He has many publications on topics in cardiovascular surgery and has presented both nationally and internationally.
Dr. Salemi is board-certified by the American Board of Surgery and the American Board of Thoracic Surgery. Dr. Salemi has received several awards and acknowledgments during his career including:
• President, New York Society of Thoracic Surgery • Surgical Director, Acquavella Heart Valve Center • Rated One of New York Magazine's Best Doctors (2015-present) • Alpha Omega Alpha Medical Honor Society for Academic Achievement (1996)
Schedule Appointment

with Dr. Arash Salemi, MD

To schedule an appointment with Dr. Salemi, you can:
Call

(888) 268-3490

right now
Request an appointment by clicking here.
The office of Dr. Salemi is located at 94 Old Short Hills Road, Livingston, NJ 07039. To get driving directions to this office, please click the map below.
> Click for driving directions to Dr. Salemi's office.
News Featuring Dr. Salemi
Here is the latest news featuring Dr. Arash Salemi:
Page last updated: November 3, 2020