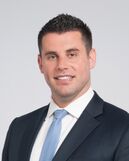 Dr. Aaron Weiss
Dr. Aaron Weiss

Heart Surgeon

Cleveland Clinic
9500 Euclid Avenue
Cleveland, OH 44195
About Dr. Aaron Weiss,
Heart
Valve

Surgeon

Hello! My name is Dr. Aaron Weiss and I am a cardiac surgeon having graduated from Mount Sinai Icahn School of Medicine in 2011. Cleveland Clinic performs more than 4,500 heart surgeries each year. All Cleveland Clinic cardiac surgeons complete between 300-400 cardiac cases per year. Read more...

2 Patient Reviews for
Dr. Weiss
"My aortic valve replacement was performed 5 weeks ago at the Cleveland Clinic's Miller Heart Institute by Dr. Aaron Weiss, who is not only extremely competent as you would expect, but is the most compassionate and caring individual you could ever meet.
He literally spent hours with my wife and me pre-operatively, explaining my procedure unhurriedly in easy-to-understand terminology. He was there in the ICU once I had re-gained consciousness to make sure I was comfortable and stable. And he made it a point to stop and chat with me daily to see if I had any concerns until I was well enough to be discharged. Dr. Weiss never rushed me at those visits and I almost felt guilty that I was taking so much of his time. But that is how he is: caring and compassionate and going the extra mile to make certain the patient is well. He is totally dedicated to his job and never in a hurry.
Was I satisfied with the surgery? You bet! The surgery went so well that I never took any of the narcotics Dr. Weiss prescribed, just Tylenol. One week after surgery I walked a mile to get fresh pastries, and two days after that I flew for 12 hours to get back home. Yes, I flew nearly half way around the world so Dr. Weiss could do my surgery and it was well-worth it.
I would trust Dr. Weiss with my life (again) if need be. He is the shining star of the Cleveland Clinic and my hat is off to Dr. Aaron Weiss and his entire team, I could not have chosen a better doctor or a better hospital than Dr. Aaron Weiss and the team at the Miller Heart Institute."
-- Alan K. Sue, Aortic Valve, Valve Replacement, Median Sternotomy, 09/11/2020

"Heart Transplant. I was a very difficult case and Dr. Weiss continues to work with me as I make a full return to my life before transplant. His care, technique, and bedside manner are superior. "
-- Gregory A Friedman, Aortic Valve, Median Sternotomy, 01/29/2020

My Specialities &
Clinical Interests
My heart surgery specialties include:
Valve repair and replacement
Complex and reoperative surgeries for heart failure, mechanical circulatory support and heart transplantation
Coronary artery bypass graft surgery and surgery for endocarditis
Education, Training & Certificates
Dr. Aaron Weiss, heart surgeon, graduated from Mount Sinai Icahn School of Medicine in 2011.
After medical school, Dr. Weiss completed a six-year integrated residency in cardiothoracic surgery at Mount Sinai Icahn School of Medicine in 2019.
Dr. Weiss has received several awards and acknowledgements including:
*2018 - American Association for Thoracic Surgery Foundation Award, Cleveland Clinic *2011 – 2012 Alpha Omega Alpha Honor Medical Society *2011 - Mrs. David A. Dreiling Surgery Prize in Memory of her Mother, Florence L. Oppenheimer, Icahn School of Medicine at Mount Sinai *2011 - Distinction in Research, Icahn School of Medicine at Mount Sinai
Schedule Appointment

with Dr. Aaron Weiss, MD

To schedule an appointment with Dr. Weiss, you can:
Call

(888) 550-3814

right now
Request an appointment by clicking here.
The office of Dr. Weiss is located at 9500 Euclid Avenue, Cleveland, OH 44195. To get driving directions to this office, please click the map below.
> Click for driving directions to Dr. Weiss's office.
News & Online References Featuring Dr. Aaron Weiss
Here is the latest news featuring Dr. Aaron Weiss:
Page last updated: December 20, 2022