Doctor Q&A: Is Heart Surgery Safe for Obese Patients?
Written By: Adam Pick, Patient Advocate, Author & Website Founder
Medical Expert: Allan Stewart, MD, Medical Director of HCA East Florida's Miami-Dade and Broward County Cardiac and Vascular Surgery Programs
Page last updated: January 29, 2021
According to the Centers for Disease Control and Prevention (CDC), obesity is a common, serious and expensive disease.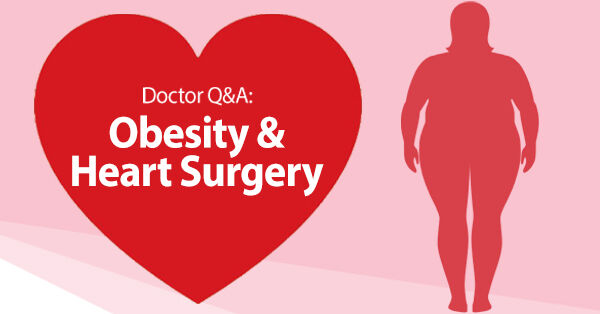 Consider these important facts:
From 1999–2000 through 2017–2018, the prevalence of obesity increased from 30.5% to 42.4%, and the prevalence of severe obesity increased from 4.7% to 9.2%.
Obesity-related conditions include heart disease, stroke, type 2 diabetes and certain types of cancer that are some of the leading causes of preventable, premature death.
The estimated annual medical cost of obesity in the United States was $1.5 trillion in healthcare costs and lost productivity, according to a 2018 study from the Milken Institute of Cancer.
So… When I received the following question from Anonymous about obesity and heart surgery, I wanted to help Anonymous and our community learn more.
Anonymous wrote to me, "Hi Adam! Can an obese person be a candidate for aortic valve surgery? I'm a 5′ 6″ female weighing 260 pounds with aortic stenosis. Surgery is not necessary at this time. My cardiologist said I would not be able to have surgery at my current weight. I know massive weight loss would be ideal but what if it doesn't happen? No surgery?"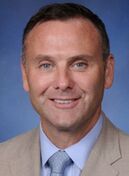 Dr. Allan Stewart
To provide Anonymous an expert opinion on this very important question, I reached out to Dr. Allan Stewart, the Medical Director of HCA East Florida's Miami-Dade and Broward County Cardiac and Vascular Surgery Programs.
As you may know, Dr. Stewart has performed successful heart valve surgery on many patients in our community including Bill Easton, Donna Herzek and John Kirby. Click here to see 40+ patient reviews for Dr. Stewart.
You should also know that Dr. Stewart has a very keen interest in nutrition and the long-term health of his patients. Dr. Stewart is so patient-focused, he has teamed up with heart valve patients for endurance athletics including triathlons and marathons.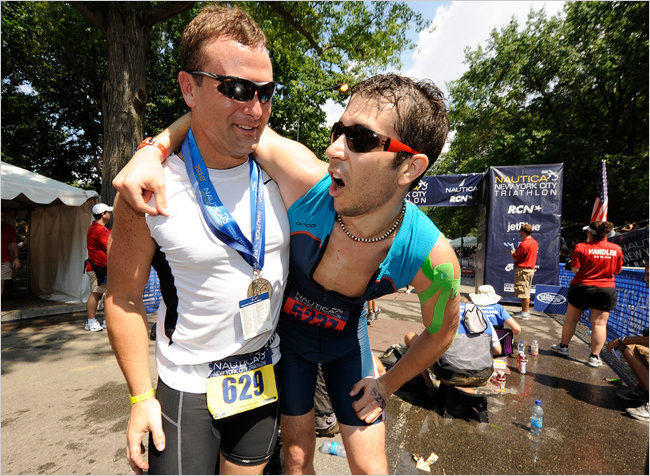 Dr. Allan Stewart with Greg O'Keefe (His Patient)
Is Heart Valve Surgery Possible for Obese Patients?
In his response to Anonymous, Dr. Stewart provided an initial response to the question, "Is heart valve surgery a possibility for obese patients with aortic stenosis?"
Yes, Anonymous can have surgery. In fact, heart surgery is a possibility for obese patients that struggle with all valve issues related to the mitral, tricuspid and pulmonary valves as well. Obesity, by itself, does not exclude a patient from the possibility of surgery. However, it is a unique concern that needs to be considered as surgeons and their medical teams develop a safe and effective therapy for patients. The really important and good news for Anonymous and other obese patients is that I, along with my team, have successfully treated many patients who were overweight at the time of surgery.
Are There Any Special Medical Devices to Help Obese Patients?
During our discussion with Dr. Stewart, he noted that surgeons can use special devices to support patients who are obese to ensure a safe recovery.
In heavier patients, we have learned over the years that ensuring sternum stability is critical for an obese patient to recover.  For that reason, we generally close the breastbone with titanium plates in heavier patients. This is known as rigid sternal fixation and is quite different than using sternal wires, which is the traditional approach. We essentially "lock" the sternum in place so that the breast bone can not move. This can lead to faster healing and less pain for obese patients during the recovery.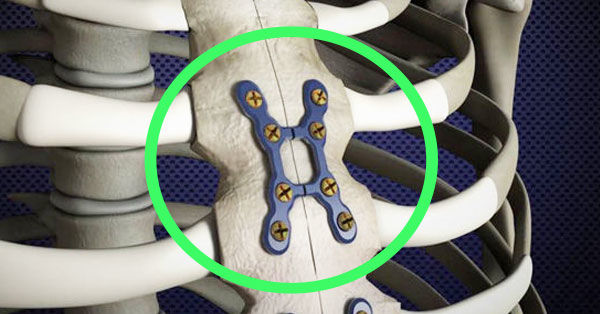 Rigid Sternal Fixation (SternaLock by Zimmer-Biomet)
What About the Use of Surgical Bras for Female Patients?
We were thrilled that Dr. Stewart addressed female patients in his response.
For female patients that are overweight, we also encourage them to wear a properly fitting sports bra during the first month after surgery. This is one more step to help provide support to the sternum during recovery.There are also surgical bras available for patients to purchase at places like Amazon. But, sports bras are typically fine for my heavier patients.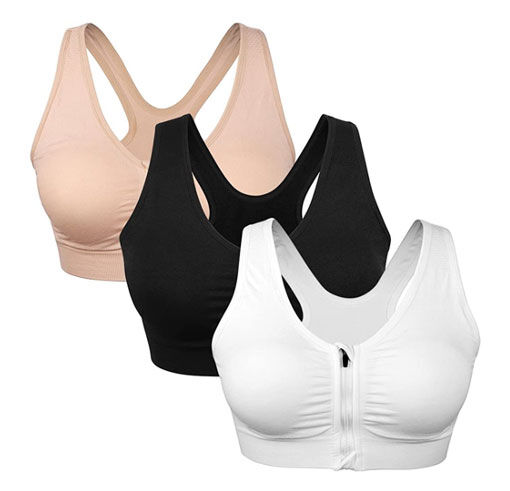 Surgical Bras for Obese Patients
What Else Should Obese Patients Know About Heart Surgery?
Dr. Stewart then revealed several important tips for Anonymous and the heavier patients in our community to consider:
Caloric restriction, or dieting, may result in some degree of weight loss prior to surgery. However, patients with severe heart valve disease (e.g. aortic stenosis) should most likely limit their exercise prior to surgery as we do not want the cardiac muscle to get strained, stressed or damaged leading up to surgery. That said, dieting alone may not be enough to sustain significant weight loss.
How Might Overweight Patients Enhance Their Health After Heart Surgery?
In his closing remarks, Dr. Stewart touched upon a consideration for overweight patients to potentially "rethink" their approach to health after cardiac surgery.
Once the diseased heart valve is either replaced and/or repaired, I strongly advocate for patients to consider a daily exercise program and aggressive change in diet. I am hopeful that Anonymous and other patients may look back at this procedure and realize that heart surgery was the start of an amazing life change! For many of my patients, heart surgery has been a "second chance" for a healthier life.
Thanks Anonymous & Dr. Stewart!
Many thanks to Anonymous for sending me this very important question about obesity and cardiac surgery. I also want to extend a tremendous thank you to Dr. Allan Stewart for sharing his clinical experience and research with our patient community!
Keep on tickin!
Adam