Surgeon Spotlight: Dr. Chris Malaisrie
Northwestern Medicine, Chicago, Illinois - Sponsored Post
As a heart surgeon at Chicago's Bluhm Cardiovascular Institute at Northwestern Memorial Hospital, S. Chris Malaisrie, MD, is accustomed to performing surgery in the O.R. every day. But he never forgets there is something new to learn with each operation.
"Heart surgery is a truly rewarding experience," states Dr. Malaisrie. "To put someone's circulation on a machine - to maintain their circulation in an artificial circuit, and operate on its internal structures - is an incredible technical feat, and an enormous responsibility."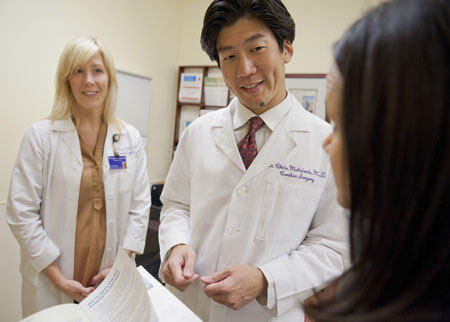 "I have been part of Northwestern Memorial Hospital for over a decade," states Malaisrie. As surgical director for Bluhm Cardiovascular Institute's Center for Heart Valve Disease, medical director of academic affairs for the Division of Cardiac Surgery and program director of its Thoracic Aortic Surgery Program, Malaisrie maintains an intense focus on heart valve research and elevating industry best practices.
"Technology to help us accomplish less-invasive surgical feats is advancing rapidly," he says. "This lightning-fast development of new technologies is a key step in bringing new techniques safely to the forefront."
A personal experience with surgery
The seed of interest in surgery was planted early in Malaisrie: His father was a general surgeon in Baltimore, Maryland, where Malaisrie was raised. "My father was very good at not bringing work home, but we knew when he got called at home that it was something vitally important."

Malaisrie's interest in medicine truly blossomed when he developed appendicitis in elementary school. "My father diagnosed me, but he didn't perform the surgery," he explains. "My father was a role model for my future work. When I got sick, he instilled confidence in me during a very frightening moment, and that's the kind of confidence we heart surgeons want to instill in our patients, our colleagues and co-workers. I learned that from my father."
The path to Chicago
Malaisrie graduated from the University of Maryland School of Medicine in 1998. He completed his residency at Loyola University Medical Center in 2004, and cardiothoracic fellowships at Baylor College of Medicine and Stanford University.

He came to call Chicago home when he joined Northwestern Memorial Hospital in 2007. In addition to his other roles, Malaisrie is a professor at Northwestern University Feinberg School of Medicine. He is board certified by both the American Board of Surgery and the American Board of Thoracic Surgery.
Innovating and inspiring at Northwestern
Malaisrie has grown a reputation that brings patients from across the country to see him.
"When a patient comes to me in need of help, it's a huge thing, an incredible thing, to be able to change their life," he says. "I want to always ensure I am doing the best work I can to help advance my field and offer the best care to my patients, while teaching others to do the same. It's very gratifying work."
His intense interest in bicuspid aortic valve treatment, aortic aneurysms and aortic dissections has led him to participate in numerous national research efforts. He also focuses on Marfan syndrome and related connective tissue disorders.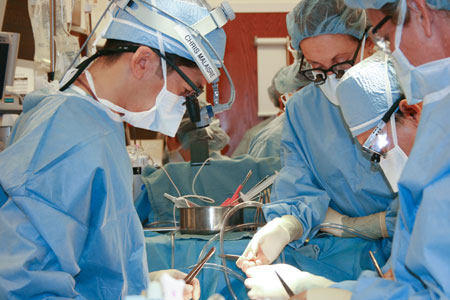 In addition to the full spectrum of cardiac surgery, Malaisrie performs valve-sparing aortic root replacements, aortic arch reconstruction, thoracoabdominal aortic repair and endovascular stent grafting. A big focus of his work is on development and perfection of minimally invasive valve procedures for patients, such as transcatheter procedures for the aortic valve (transcatheter aortic valve replacement, or TAVR), mitral valve (transcatheter mitral valve replacement, or TMVR) and tricuspid valve (transcatheter tricuspid valve replacement).

"I believe we're seeing an evolution that will make transcatheter valve procedures much more the norm," says Malaisrie. "They offer easier recovery, less pain, and better cosmetic results—and while they are as safe as standard cardiac surgery, they may be associated with better outcomes. And that's what I want for my patients."
Research and teaching to reinforce experience
"Leading and participating in research efforts is another essential step in advancing cardiac surgery, one I'm very enthusiastic about," explains Malaisrie. "In addition, part of advancing the field of cardiac surgery is teaching others. I work with medical students on cardiac surgery rotation, and train residents so they leave our program armed with the skills they need to become great heart surgeons. It's one of the things I love about my work with Northwestern."
On his days off
Malaisrie lives with his wife and three children in Chicago. He plays classical piano, and his kids are all learning musical instruments, too. As a family, they love to soak in all that the city has to offer.

"Chicago's a great international town, packed with restaurants, parks and culture that our whole family loves," he says. "Plus it's a hub, so it's easy to get anywhere else in the world."

That geographic desirability is ideal for Malaisrie, who is also a philanthropist in his family's native country of Thailand. As a past president of the Thai Physicians Association of America, he spends much of his free time raising funds for hospitals and schools on the other side of the globe.

"Many Thai hospitals are in need of very, very basic things," he says. "Fundraising is a hard job, but I'm very glad—and grateful—to be able to help." He loves to travel there with his family, exploring their heritage and making a difference in the lives of others. It's all part of Malaisrie's lifelong mission to help others.

Page last updated: September 1, 2022