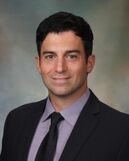 Dr. Valentino Bianco
Dr. Valentino Bianco

Heart Surgeon

Mayo Clinic Hospital in Arizona
5881 E. Mayo Blvd.
Phoenix, AZ 85054
About Dr. Valentino Bianco,
Heart
Valve

Surgeon

Hello! My name is Dr. Valentino Bianco and I am a cardiac surgeon having graduated from Midwestern University in 2012. Mayo Clinic performs more than 4,500 cardiac surgeries each year. We are experts in treating pediatric, congenital and complex forms of heart valve disease using minimally invasive procedures including transcatheter aortic valve replacement (TAVR) and robotic mitral valve repair. In addition, Mayo Clinic specializes in treating cardiac conditions often related to heart valve disease including atrial fibrillation, coronary artery disease and aortic aneurysms. I regularly perform surgery at Mayo Clinic Hospital in Arizona. Read more...
2 Patient Reviews for
Dr. Bianco
"While I hope to never have open heart surgery again :) I can not imagine a better experience than what I had at the Mayo Clinic! I had my first consultation with a well-known surgeon from another hospital network (I worked for that hospital network for over four years actually), but did not feel 100% comfortable, so I sought out a second opinion. Fortunately for me, it was with Dr. Bianco. Upon first meeting Dr. Bianco, he was very personable and spent all the time I needed discussing my condition and the surgical options. As soon as he left the room, I told my husband, "this is my surgeon!"
Dr. Bianco did not turn my care over to other doctors after the surgery either; he was present every day that I was in the hospital. In fact, he visited me at least twice daily! I was in the hospital for one week, and even on the weekends, Dr. Bianco was there to check on me. He even timed his visits around his other obligations for when my husband would be there, or if he missed him, he stopped back again just to say hello!
As far as medical decision making, Dr. Bianco valued my input and included me in the decision-making process, which I appreciated very much.
Overall, I can not think of any areas of improvement for Dr. Bianco. I would ask that you encourage him to continue his patient-centered approach, his wonderful bedside manner, and as he becomes more widely known at Mayo, and I'm sure busier, to make sure he takes time for himself also (away from the hospital). Tell him to go "take a hike!" (literally - that's something he enjoys!). "
-- Clinton Rogers, Aortic Valve, Root Replacement, 01/05/2023

"I don't know if a few sentences can truly convey the depth of my appreciation for Dr. Bianco's calm, cool and confident demeanor at a time when faced my own mortality. Dr. Bianco's unwavering confidence and passion to deliver the best possible long-term outcome for his patient (in this case myself) can not be emphasized enough.
In my own case, where others may have taken an easier route when faced with the unexpected, there is not a doubt in my mind that Dr. Bianco prioritized his patient's (my) greatest desire and through his skill and experience brought my procedure to its successful conclusion.
Post Operatively, Dr. Bianco's insightful support and a bit of humor went a long way as my healing quickly progressed and I felt the overwhelming emotion and appreciation for the life I continue to live with my family and the simple pleasures of everyday frustrations returning me to normal."
-- Jason Gold, Mitral Valve, Valve Repair, 11/21/2022

My Specialities &
Clinical Interests
My heart surgery specialties include:
Aortic valve replacement
Mitral valve repair and replacement
Valve-sparing aortic root replacement, ascending aortic aneurysm repair and aortic arch reconstruction
In addition, I have research and clinical interests specific to:
Bicuspid aortopathy
Thoracic endovascular aortic repair
Connective tissue disease and associated aortopathy
Education, Training & Certificates
Dr. Valentino Bianco, heart surgeon, graduated from Midwestern University in 2012.
After medical school, Dr. Bianco completed a research fellowship in cardiothoracic surgery and a Master of Public Health degree at the University of Pittsburgh. Dr. Bianco then completed a 6-year integrated cardiothoracic surgery residency program and an advanced fellowship in aortic and cardiac surgery at the University of Pittsburgh Medical Center.
Dr. Bianco is board certified by the American Board of Thoracic Surgery.
Dr. Bianco has received multiple awards for academic achievement in residency, including overall academic achievement award, scientific award for impactful clinical research and top percentile achievement on in-service training exam. Dr. Bianco has also been elected to a Public Health Honors Society.
To date, Dr. Bianco has 80+ journal publications.
Schedule Appointment

with Dr. Valentino Bianco, DO

To schedule an appointment with Dr. Bianco, you can:
Call

(480) 530-8224

right now
Request an appointment by clicking here.
The office of Dr. Bianco is located at 5881 E. Mayo Blvd., Phoenix, AZ 85054. To get driving directions to this office, please click the map below.
> Click for driving directions to Dr. Bianco's office.
Page last updated: February 22, 2023