Dr. Robin Varghese
,

Heart Valve Surgeon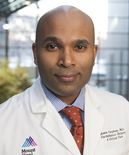 Hello! My name is Dr. Robin Varghese and I am a cardiac surgeon having graduated from University of Western Ontario in 2002. To date, I have performed approximately 2,000 cardiac surgeries, of which 800 involved heart valve procedures. I regularly perform surgery at Mount Sinai Hospital. Read more...

25 Patient Reviews for Dr. Varghese

"From the first visit with Dr. Varghese, I knew we were making the right choice."
-- Joseph De Luca, heart valve surgery patient
"I cannot say enough great things about Dr. Varghese. From the moment I had my consulation he put me at ease with excepting that I needed surgery. Im 42 and had a bicuspid aortic valve and a huge aortic aneurysm that needed to be repaired. He told me my different options for fixing my aortic valve and he told me about the Ross Procedure. Taking my pulmunary valve, placing it into the aortic position and having a cadaver valve placed were my pulmunary valve was. This way I have my own valve in the aortic position. After speaking with him, I knew he was the person I was going to entrust my life to without hesitation. Well I had my surgery on 10/5/17 and I am doing great. My scar is only not even 6 inches long and its healing so well and you cannot even tell i had surgery because you cant notice my scar. Anytime I had any issue Dr. Varghese and Mt. Sinai hospital staff were there to answer questions. Dr. Varghese saved my life and I am so thankful and my son is also. I will have many more years with my son and my family thanks to Dr. Varghese."
-- Jennifer Campanella, Aortic Valve, Valve Replacement, Ross Procedure, 10/08/2017

> See 23 more patient testimonials
My Specialities & Interests
Specific to heart valve surgery, you should know that I have several specialties including:
Mitral valve repair surgery
Aortic valve repair and replacement surgery
Aortic root surgery
In addition, I have research and clinical interests specific to:
Mitral valve outcomes research
Aortic valve outcomes research

Education, Training & Certificates
Dr. Robin Varghese, heart surgeon, graduated from University of Western Ontario in 2002.
After medical school, Dr. Varghese completed a Cardiac Surgery Residency and a Critical Care Medicine Fellowship at London Health Sciences Centre / University of Western Ontario.To advance his specialties in valvular therapy, Dr. Varghese completed an Advanced Valvular Heart Surgery Fellowship at Mount Sinai Medical Center.
Dr. Varghese is board certified in Cardiac Surgery and Critical Care Medicine by the Royal College of Physicians and Surgeons of Canada.

Schedule Appointment with Dr. Varghese
To schedule an appointment with Dr. Varghese, you can:
Call

(888) 660-9427

right now
The office of Dr. Varghese is located at 1190 Fifth Avenue , New York City, NY 10029.
To get driving directions to this office, please click the map below.
> Click for driving directions to Dr. Varghese's office.