Dr. Robin Varghese
,

Heart Valve Surgeon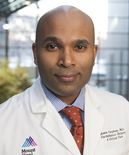 Hello! My name is Dr. Robin Varghese and I am a cardiac surgeon having graduated from University of Western Ontario in 2002. To date, I have performed approximately 2,000 cardiac surgeries, of which 800 involved heart valve procedures. I regularly perform surgery at Mount Sinai Hospital. Read more...

27 Patient Reviews for Dr. Varghese

"From the first visit with Dr. Varghese, I knew we were making the right choice."
-- Joseph De Luca, heart valve surgery patient
"My experience with Dr Varghese was perfect from beginning to end. He made me feel very special and explained the surgery to me so that I was comfortable and knew all about what he would be doing. After surgery Dr Varghese was there to explain how thing went and answer any questions I had. He was also very good to my family and took the time to explain everything so that they were confident that I was in good hands and that Dr Varghese would be easily available if they wanted to get in touch with him. I am very grateful to Dr Varghese for making my 3 valve surgery such a good experience"
-- Patricia Colontonio, Aortic Valve, Pulmonary Valve, Mitral Valve, Valve Repair, Valve Replacement, 03/15/2018

> See 25 more patient testimonials
My Specialities & Interests
Specific to heart valve surgery, you should know that I have several specialties including:
Mitral valve repair surgery
Aortic valve repair and replacement surgery
Aortic root surgery
In addition, I have research and clinical interests specific to:
Mitral valve outcomes research
Aortic valve outcomes research

Education, Training & Certificates
Dr. Robin Varghese, heart surgeon, graduated from University of Western Ontario in 2002.
After medical school, Dr. Varghese completed a Cardiac Surgery Residency and a Critical Care Medicine Fellowship at London Health Sciences Centre / University of Western Ontario.To advance his specialties in valvular therapy, Dr. Varghese completed an Advanced Valvular Heart Surgery Fellowship at Mount Sinai Medical Center.
Dr. Varghese is board certified in Cardiac Surgery and Critical Care Medicine by the Royal College of Physicians and Surgeons of Canada.

Schedule Appointment with Dr. Varghese
To schedule an appointment with Dr. Varghese, you can:
Call

(888) 660-9427

right now
The office of Dr. Varghese is located at 1190 Fifth Avenue , New York City, NY 10029.
To get driving directions to this office, please click the map below.
> Click for driving directions to Dr. Varghese's office.