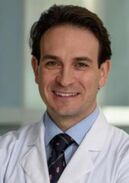 Dr. Pietro Bajona
Dr. Pietro Bajona

Heart Surgeon

Allegheny General Hospital
320 East North Avenue, 14th Floor, South Tower
Pittsburgh, PA 15212
About Dr. Pietro Bajona,
Heart
Valve

Surgeon

Hello! My name is Dr. Pietro Bajona and I am a cardiac surgeon having graduated from University of Ferrara, Italy in 2003. To date, I have performed approximately 2,000 cardiac surgeries, of which over 500 involved heart valve procedures. I regularly perform surgery at hospitals including Allegheny General Hospital and Forbes Hospital. Read more...
7 Patient Reviews for
Dr. Bajona
"Dr. Bajona is not only a gifted surgeon but a genuinely good man. His kindness, his willingness to answer questions, his patience, his friendliness, and his expertise all made what was a nerve-racking experience much less so for me as well as for my wife. Should the need arise, I would not hesitate to recommend him to a family member or a friend as my surgery and recovery went extremely well."
-- Thomas Miscik, Aortic Valve, Valve Replacement, Median Sternotomy, 01/31/2022

"Dr. Bajona is very patient and answered all of my questions. He explained the procedure well beforehand. I could not be happier with his work on me and his care afterwards. I had my surgery on a Monday morning and I was walking the halls of the hospital the next day. On Friday morning, I walked out of the hospital and went home. I would recommend him to anybody who needed heart surgery."
-- Justin Decheck, Aortic Valve, Valve Replacement, 01/17/2022

> See 5 more patient testimonials
My Specialities &
Clinical Interests
My heart surgery specialties include:
Mitral valve surgery
Atrial fibrillation surgery
Surgery for Hypertrophic Obstructive Cardiomyopathy
In addition, I have research and clinical interests specific to:
Heart valve repair using new technologies including Neochord
New approaches to hypertrophic cardiomyopathy treatment
Xenotransplantation
Education, Training & Certificates
Dr. Pietro Bajona, heart surgeon, graduated from University of Ferrara, Italy in 2003.
After medical school, Dr. Bajona completed his residency at the University of Pisa, Italy in 2008. He then completed a Research Fellowship at the University of Pittsburgh, also in 2008.
Dr. Bajona furthered his specialty with a Clinical Fellowship at the University of Toronto in 2010 and a Clinical Fellowship at Mayo Clinic Minnesota in 2013.
Dr. Bajona is board certified by the European Board of Thoracic and Cardiovascular Surgery. Dr. Bajona also earned a PhD in Translational Science applied to Mitral Valve treatment.
Schedule Appointment

with Dr. Pietro Bajona, MD

To schedule an appointment with Dr. Bajona, you can:
Call

(412) 850-2356

right now
Request an appointment by clicking here.
The office of Dr. Bajona is located at 320 East North Avenue, 14th Floor, South Tower, Pittsburgh, PA 15212. To get driving directions to this office, please click the map below.
> Click for driving directions to Dr. Bajona's office.
Watch Educational Video with Dr. Pietro Bajona
Learn about heart valve surgery from Dr. Bajona in this video:
Hypertrophic Cardiomyopathy & Heart Valve Disease: Questions & Answers with Dr. Pietro Bajona
News & Online References Featuring Dr. Pietro Bajona
Here is the latest news featuring Dr. Pietro Bajona:
Page last updated: April 1, 2023