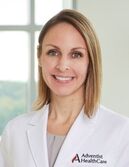 Dr. Lindsey Prescher
Dr. Lindsey Prescher

Heart Surgeon

White Oak Medical Center
11886 Healing Way, Suite 403
Silver Spring, MD 20904
About Dr. Lindsey Prescher,
Heart
Valve

Surgeon

Hello! My name is Dr. Lindsey Prescher and I am a cardiac surgeon having graduated from Lake Erie College of Osteopathic Medicine in 2009. To date, I have performed approximately 1,200 cardiac surgeries, of which more than 1,000 involved heart valve procedures. I regularly perform surgery at White Oak Medical Center. Read more...
1 Patient Review for
Dr. Prescher
"In August 2019 during my routine echo cardiogram to assess an aortic aneurysm that had been diagnosed in 2016, the test showed that the aortic root had continued to dilate to the point where surgery was necessary to correct the condition.
In my 64 years, the only surgical procedure I had was a tonsillectomy when I was six. The thought of having major thoracic surgery, having my chest opened, was frightening to say the least. I was reluctant, and extremely anxious.
Dr. Lindsey Prescher, Lieutenant Commander, Naval Medical Corps, a professional, and extremely compassionate thoracic was assigned my case. She was a god send. Her professional approach to the doctor – patient care team are her mantra. When we first met at the surgical consultation she explained the procedure, using her Dr. "P" diagram. She made sure that I fully understood the procedure, but also realizing how anxious I was, reassured me, calming my worried anticipation. Dr. "P's" caring goes well beyond her surgical responsibilities, you become an "adopts" member of her surgical family.
However, when it came time to set the surgical date, there was no debate. I asked to postpone the surgery for several months, but the Dr. knew best. Dr. P already had mapped the timelines of the surgery, and there was going to be no argument or debate. Calmly and without alarming me she explained that it would be beneficial to have the surgery performed prior to the end of the year. "We" decided that the surgery would be on November 19, 2021. She's knew without alarming me, that my condition was serious and needed immediate attention.
She is a no nonsense strategic clinician. From the onset, Dr. "P" had strategically mapped the surgery. The procedure was to graft and repair the aorta. Dr. Presher evaluated the aortic condition from a systems approach. She assessed the possibility that the aortic valve may also be damaged. Discussing this as possible course of action, she was spot on. In fact during surgery she discovered that my aortic valve leafs were calcified requiring a valve replacement. Dr. "P's" surgical vision allowed for the repair of the total aortic system.
The process didn't stop there, it continued post-surgery, throughout my in hospital recovery. Dr. P kept vigil, during my in-hospital recovery. Her daily visits, monitoring my condition and test results, were met to her professional satisfaction and only when she gave her blessing that I was medically fit was I allowed to be released. But the story of my relationship with Dr. "P" and her "adopted" band of surgical patients extends demonstrating her concern and compassion. Dr. "P" contacted me several months after surgery and presented a wonderful idea. A patient to patient outreach. She realized that the anxiety I had experienced, she was seeing in other patients pending aortic surgery. Dr. P, contacted me inquiring if I would be willing to "join" her team, willing to speak to patients pending similar aortic surgeries. Helping other patients was an honor and pleasure.
Dr. P is my "Wonder Woman". She is an outstanding surgeon, meticulous, strategic, dedicated and devoted to every patient under her care. I would recommend Dr. "P" to anyone needing thoracic surgery. In retrospect I can honestly say she saved my life."
-- Richard Vargas, Aortic Valve, Valve Replacement, Root Replacement, 11/03/2021

My Specialities &
Clinical Interests
My heart surgery specialties include:
Aortic valve surgery
Mitral valve repair
Mitral valve replacement
In addition, I have research and clinical interests specific to:
Transcatheter mitral valve replacement and repair technology
Quality metrics and assurance post cardiac surgery
Aortic aneurysm screening and surveillance models with the integration of artificial intelligence technology
Education, Training & Certificates
Dr. Lindsey Prescher, heart surgeon, graduated from Lake Erie College of Osteopathic Medicine in 2009.
After medical school, Dr. Prescher completed her residency at Naval Medical Center in San Diego in 2015. Dr. Prescher is board certified in General Surgery and Cardiothoracic Surgery.
Dr. Prescher has received several awards and recognitions including:
* Navy and Marine Corp Commendation Medal for service from 2009 through 2016
* Meritorious Unit Commendation for service from 2010 through 2012
* Basic Life Saving (CPR & AED): Issued March 2011 (current)
* Advanced Life Support: Issued June 2009 (current)
* Advanced Trauma Life Support: Issued February 2010 (current)
* Licensed physician in the state of Minnesota effective since March 2010 (current)
* Licensed physician in state of Connecticut effective June 2019 (current)
* ATLS Instructor: Certification in October 2012
Schedule Appointment

with Dr. Lindsey Prescher, MD

To schedule an appointment with Dr. Prescher, you can:
Call

(240) 266-0755

right now
Request an appointment by clicking here.
The office of Dr. Prescher is located at 11886 Healing Way, Suite 403, Silver Spring, MD 20904. To get driving directions to this office, please click the map below.
> Click for driving directions to Dr. Prescher's office.
News & Online References Featuring Dr. Lindsey Prescher
Here is the latest news featuring Dr. Lindsey Prescher:
Page last updated: March 2, 2022