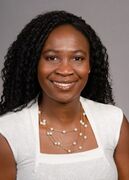 Dr. Lara Oyetunji
Dr. Lara Oyetunji

Heart Surgeon

UW Medicine Heart Institute
Main Hospital, 1959 NE Pacific St.
Seattle, WA 98195
About Dr. Lara Oyetunji,
Heart
Valve

Surgeon

Hello! My name is Dr. Lara Oyetunji and I am a cardiac surgeon having graduated from University of Chicago in 2009. To date, I have performed approximately 1,000 cardiac surgeries, of which over 400 involved heart valve procedures. I regularly perform surgery at UW Medicine Heart Institute. Read more...
2 Patient Reviews for
Dr. Oyetunji
"Very easy to talk to and understand. She explained each of the options to my wife and I. We decided on the mechanical valve. My wife, Ronda left the pre-op visit informed and confident that we have the best surgeon we could hope for. After the surgery Dr. Oyetunji made sure Ronda was updated. She called my wife as soon as the procedure was complete to let her know I was ok. "
-- McQueen Varnes, Aortic Valve, Valve Replacement, 06/09/2022

"I had no sooner made the appointment for the heart surgery, Dr. Oyetunji contacted me directly to introduce herself, talk about it, understand any concerns I had, and to lay out a plan of when I would be seeing her.
I thought her approach was very professional. In the meeting prior to the surgery with my wife, she was very smart, very approachable and explained very clearly the positives and the potential downsides in a way that was very clearly understood by us both. After the surgery she regularly stopped by including over the weekend to check up on me. She's a great surgeon and a great asset to the UW Medicine team. 5 out of 5 stars."
-- Jim Olsen, Mitral Valve, Valve Repair, 08/05/2021

My Specialities &
Clinical Interests
My heart surgery specialties include:
Mitral valve repair and replacement
Transcatheter aortic valve replacement (TAVR)
Atrial fibrillation therapy using the Maze Procedure
In addition, I have research and clinical interests specific to:
Mitral valve pathology
Hypertrophic cardiomyopathy
Coronary artery bypass graft (CABG)
Education, Training & Certificates
Dr. Lara Oyetunji, heart surgeon, graduated from University of Chicago in 2009.
After medical school, Dr. Oyetunji completed a General Surgery Residency and Cardiothoracic Surgery Residency at UW Medicine.
Dr. Oyetunji also completed a Fellowship at the National Institute of Health and she received a degree in Public Health from Johns Hopkins University School of Hygiene and Public Health.
For her commitment to the treatment of cardiac disorders, Dr. Oyetunji was named a "Top Doctor" in the Seattle Met magazine in 2021.
Schedule Appointment

with Dr. Lara Oyetunji, MD

To schedule an appointment with Dr. Oyetunji, you can:
Call

(206) 809-7991

right now
Request an appointment by clicking here.
The office of Dr. Oyetunji is located at Main Hospital, 1959 NE Pacific St., Seattle, WA 98195. To get driving directions to this office, please click the map below.
> Click for driving directions to Dr. Oyetunji's office.
News & Online References Featuring Dr. Lara Oyetunji
Here is the latest news featuring Dr. Lara Oyetunji:
Page last updated: July 2, 2022