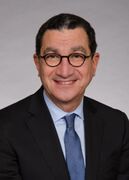 Dr. Gabriel Aldea
Dr. Gabriel Aldea

Heart Surgeon

UW Medicine Heart Institute
Main Hospital, 1959 NE Pacific St.
Seattle, WA 98195
About Dr. Gabriel Aldea,
Heart
Valve

Surgeon

Hello! My name is Dr. Gabriel Aldea and I am a cardiac surgeon having graduated from Columbia University College of Physicians and Surgeons in 1981. To date, I have performed approximately 10,000 cardiac surgeries, of which 5,000 involved heart valve procedures. I regularly perform surgery at UW Medicine Heart Institute. Read more...
7 Patient Reviews for
Dr. Aldea
"Excellent bedside manner. Excellent results. I am an OR nurse. After discussing with my colleagues and some investigating, I have come to the conclusion that Dr. Aldea is one of the best cardiac surgeons in the country."
-- Philip Palmer , Mitral Valve, Valve Repair, 03/23/2023

"More than a decade ago my wife decided I should have a primary care physician and get an annual physical. The routine exam scheduled by my wife revealed a concerning murmur. I was referred to a cardiologist and diagnosed with moderate mitral valve regurgitation. That cardiologist recommended surgery immediately.
The diagnosis left me bewildered and confused. At the time I bicycled 10 miles each day, commuting to work year-round regardless of weather conditions. I experienced no symptoms except for poor hill-climbing endurance despite the thousands of miles bicycled. In denial, I ignored the cardiologist's advice for a year before seeking a second opinion, this time from Catherine Otto at University of Washington Regional Heart Center. Dr. Otto confirmed the diagnosis but listened to my concerns about the risks of surgery and was supportive of my decision to put off surgery and instead monitor the condition. I remained asymptomatic as the condition progressed slowly over the course of a decade.
In the fall of 2021, my annual echo revealed a near doubling of the regurgitation which explained the general fatigue I had been experiencing last year. Dr. Otto recommended a surgical consultation with Dr. Aldea.
Dr. Aldea and his team took the time to listen to all my concerns and fears and answered my questions in great detail. After that consultation I felt comfortable having Dr. Aldea perform my mitral valve repair surgery.
One of my greatest fears was the panic I might feel waking up with a breathing tube down my throat - unable to communicate. I expressed this fear to the surgical team. To my great surprise, I woke up about 8 hours after surgery without a breathing tube or even oxygen! I was able to ask for my phone and text family and friends that I had survived. Less than 24 hours after surgery I was up and walking. Four days after surgery I was sent home!
Throughout this experience, everyone on Dr. Aldea's team, as well as all the nurses who cared for me, demonstrated remarkable professionalism and compassion. I wish I could remember each of their names to thank them individually, but sadly I cannot.
I was equally impressed with the physical organization and cleanliness of the UW cardiothoracic ICU where I stayed following open heart surgery.
Nine months after surgery I consider myself fully recovered. A recent echo confirmed excellent mitral valve function. I can now walk up the steepest hills in my Tacoma neighborhood with ease and plan to ride the STP in July of 2023. "
-- Alexander Starner, Mitral Valve, Valve Repair, Median Sternotomy, Maze Procedure, 02/10/2022

> See 5 more patient testimonials
My Specialities &
Clinical Interests
My heart surgery specialties include:
Minimally-invasive heart valve surgery
Mitral valve repair
Catheter-based therapies for aortic, mitral and tricuspid valves that require no incision to the patient's chest or ribs
In addition, I have research and clinical interests specific to:
Minimizing morbidity of cardiopulmonary bypass
Atrial fibrillation (irregular heart rhythm) therapy including the Maze procedure
Coronary artery bypass grafts (CABG)
Education, Training & Certificates
Dr. Gabriel Aldea, heart surgeon, graduated from Columbia University College of Physicians and Surgeons in 1981.
After medical school, Dr. Aldea completed a General Surgery Residency at New York Hospital and Fellowships in Cardiothoracic Surgery and Cardiovascular at New York Hospital and the University of California, San Francisco.
Today, Dr. Aldea, MD, FACS, FACC, is the Chief of Cardiac Surgery, the William K. Edmark Professor of Cardiothoracic Surgery, and the Surgical Director of the UW Medicine Heart Institute.
Dr. Aldea is a nationally recognized leader with expertise in cardiac valve replacement and repair, management of aortic aneurysm, as well as catheter-based minimally invasive valve and aortic therapies. He strives to create active partnerships with his patients, families and referring physicians, offering individualized patient-focused therapies that best address specific and complex heart issues.
Based on a broad 25-year experience of caring for patients from the entire Pacific Northwest, coupled with full spectrum of clinical expertise from open surgical to catheter based (minimally invasive) approaches, Dr. Aldea aims to personalize the right therapy for each individual patient so that each patient achieves their fullest recovery and potential.
Dr. Aldea is board-certified by the American Board of Surgery and the American Board of Thoracic Surgery.
Schedule Appointment

with Dr. Gabriel Aldea, MD

To schedule an appointment with Dr. Aldea, you can:
Call

(206) 208-7749

right now
Request an appointment by clicking here.
The office of Dr. Aldea is located at Main Hospital, 1959 NE Pacific St., Seattle, WA 98195. To get driving directions to this office, please click the map below.
> Click for driving directions to Dr. Aldea's office.
News & Online References Featuring Dr. Gabriel Aldea
Here is the latest news featuring Dr. Gabriel Aldea:
Page last updated: December 16, 2022