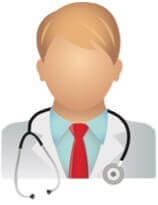 Dr. Chad Hughes

,

Heart Surgeon

Durham, NC
- Unregistered Surgeon
Patient Recommendations (9)
"Duke University. Very competent. Explained everything before surgery. Highly recommended to me, and I would agree."
Posted by Dianne Dougherty, Aortic Valve, Valve Repair, Valve Replacement, Transcatheter, 10/19/2022
"Dr. Hughes was straightforward, direct, thorough and a good listener who inspires confidence both for the patient and the family. I could not have scripted a better end result. I was a "gym rat" before the surgery (cardio, 5-6 days/week and weight training, 3 days/week) and he encouraged me not to let up before the surgery (I was totally asymptomatic; my aortic regurgitation and defective aortic valve were discovered during a routine periodic annual physical and my aortic aneurysm was revealed on a chest scan). As a result, my post-surgical adjustments were quite bearable and pain-free. I cannot recommend Dr. Hughes highly enough!"
Posted by Stephen Cooke, Aortic Valve, Valve Replacement, Median Sternotomy, 02/07/2023
"All positives. I called him a skilled "cowboy" surgeon. He and his team were the best caliber. The made me feel secure. He was open and honest, looked me squarely in the eyes, exactly what I needed. The Duke Heart program was superior in every way. I was well taken care of. His team was top notch. The results saved my life. How could I not be pleased?"
Posted by Rosemary Crane, Aortic Valve, Valve Replacement, Median Sternotomy, 01/08/2018
"Dr. Hughes is focused on aortic valve disorders and the problems that it causes. I was born with a bicuspid aortic valve which means that I had two flaps on the valve when normally people are born with three. I had been leaking and did not know until I was a teenager that anything was wrong. Occasionally my heart would "take off running " even when I was setting still! I learned to lay flat on the floor, hold my breath, and apply pressure to my chest. I just thought that it was a minor inconvenience. It was finally discovered years later when I had an echocardiogram what my problem was but did not become a major concern until I developed an aneurysm because of the missing heart flap at age 44. I still was in denial and put off surgery for 3 years until I was so week from a leaking valve that I could not shop without riding a buggy. I also spent alot of time sleeping because I was so tired all the time. Quality of life was gone. My cardiologist in Virginia sent me to Duke in Durham, NC, to a surgeon and professor, Dr. Messier,for a Saint Jude metal heart valve replacement and an aneurysm repair of the aortic root. 5 days after surgery, I was well enough to go home. But guess what? In 2016, 12 years after my 1st open heart surgery, I developed another aneurysm again on my aortic root. Professor Messier had taken another position, but Dr. Chad Hughes, who had studied under him was there, and also focused through new knowledge and a new procedure on repairing the aorta root permanently so that a person with my problem could be fixed with only 1open heart surgery in the future. So through the knowledge and dedication to make a difference Dr. Hughes, performed my 2nd open heart surgery to save my life. I am almost 62 and have a great possibility of a normal life span. Thank you Dr Hughes, though your years of dedication for giving me my life back! You are making a difference!"
Posted by Karen Jones , Aortic Valve, Valve Replacement, 11/03/2018
"Dr. Hughes is awesome. He concentrates on the aorta. He is the Director of the Aortic Surgery Program. I traveled from Columbia, SC to Durham to have this done. He was able to do my bicuspid replacement only cutting half of my sternum. I felt the utmost confidence in having him as my surgeon. He leads a team that takes care of your every need from the first phone call until they release you back to your cardiologist."
Posted by Sidney Nash, Aortic Valve, Valve Replacement, 01/16/1970
"Dr. Hughes was fantastic. I left the Duke Hospital on the morning of third day and was walking three miles a day within two months. I have had many follow-up visits and everything is perfect. I am very thankful that Duke had doctors such as him. "
Posted by Bill Whitaker, Aortic Valve, Valve Repair, Root Replacement, 11/04/2009
"Dr. Hughes reminds me of 'top gun' fighter pilot. Pre-operation he was direct and concise without a lot of 'warm fuzzy' verbal support. The operation went exactly as it was supposed to go and I'm happy with the excellent outcome. Post-surgery he was more personally engaging in his 'bedside manner'. An excellent surgeon. I wasn't as satisfied with Duke Hospital, but that's another story."
Posted by Ross Mann, Aortic Valve, David Procedure, 07/14/2008
"Very informative. Excellent bedside manner. Explained each step. Recovery went as well as he said it would. Highly recommend Dr. Hughes and the staff at Duke Hospital."
Posted by Jimmie D. Floars, Aortic Valve, Valve Replacement, Root Replacement, 11/11/2008
"Dr. Hughes was absolutely fantastic. He patiently answered every question I had, pre-op and post-op. He was very nice to my family post-op, informing them of exactly what transpired in surgery and answering all their questions. I am very confident that my surgery was done with exceptional technical expertise, and that my valve (bovine tissue valve from Edwards Lifesciences) and aortic root replacement will last a long time. I very highly and very enthusiastically recommend Dr. Hughes."
Posted by Sean Ripperton, Aortic Valve, Valve Replacement, Root Replacement, 08/19/2008
> About this profile
Thanks to a verified patient recommendation, this surgeon has been included in our Surgeon Finder as an "Unregistered Surgeon". This surgeon does not have any association with this website, its educational efforts or its patient-advocacy initiatives. To see a list of "Registered Surgeons", please
click here.
> Search again