Surgeon Spotlight: Dr. Duc Thinh Pham
Northwestern Medicine, Chicago, Illinois
As a cardiac surgeon with a focus on heart valve disease, Duc Thinh Pham, MD, relishes the collaborative style of his team at Northwestern Medicine's Bluhm Cardiovascular Institute — which affords him the opportunity to work on a wide variety of clinical cases.
"We have some of the world's leading experts on a vast spectrum of diseases and procedures, which means we are able to work together to create the most optimal protocols for patients with very complex illnesses," says Pham.
"I really enjoy working with my colleagues in both cardiac surgery and interventional cardiology on open, minimally invasive, and percutaneous heart valve interventions, because it means we offer a breadth of innovative and individualized therapies for our patients." Minimally invasive, percutaneous heart valve interventions are treatment options for patients who are too high risk for traditional open-heart surgery.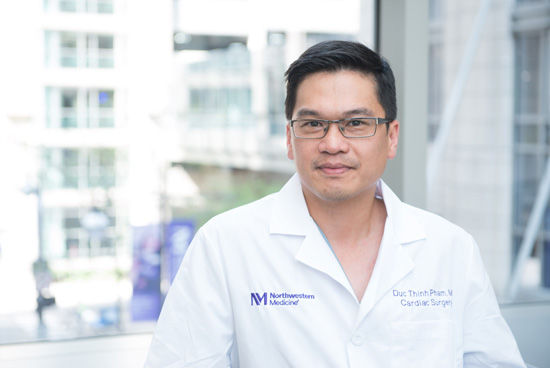 A return to Northwestern Medicine
Pham is relatively new in his role as surgical director for the Center of Heart Failure at Northwestern Medicine (he is also an associate professor at Northwestern University Feinberg School of Medicine), but no stranger to the institution.
After graduating from and completing his general residency at the University of North Carolina School of Medicine, Pham completed his cardiothoracic surgery residency and an advanced fellowship in heart failure and valvular surgery in the Cardiovascular Surgery Program at Northwestern University Feinberg School of Medicine.
He moved to Boston in 2006 to lead the Heart Transplant Program at Tufts Medical Center, but returned to Chicago in 2015 to take on the new role at Northwestern Medicine. His clinical specialties include all aspects of adult cardiac surgery, including coronary bypass surgery, valvular heart repair/replacement, transcatheter aortic valve replacement, aortic surgery, ventricular reconstruction, heart transplantation and ventricular assist device implantations. He has operated on more than 1,000 patients.
Passion for health and wellness
As a child, Pham and his family moved to North America after the Vietnam War. He says his family has always held wellness in high regard: "We survived the war, and that experience changed me forever. I realized that beyond survival, one of the most basic human needs is medicine for good health and wellness. Pursuing medicine and helping people achieve good health and wellness is an area in which I feel I help others the most," he explains.
During his time as a medical student and surgical resident, Pham was exposed to many pathologies and organ systems. But the heart captivated his attention.
"I consulted on a case of a woman who came in with triple valve endocarditis. She was nearly dying; we rushed her to surgery that evening, and the following day, she was sitting up in a chair, talking to her family again," Pham recalls. "That case impressed upon me what an immediate impact we as cardiac surgeons can have on a patient's life—and quality of life."
Developing percutaneous treatment technologies
Because untreated or poorly treated heart valve disease can quickly lead to heart failure; it's essential to explore treatment methods that stop disease in its earliest stages, says Pham.
Right now, he says, the evolution of percutaneous options for treating heart valve disease is an area of great interest and need for certain patient populations: "Transcatheter Aortic Valve Replacement (TAVR) has been around for more than five years or so. Now we're seeing next generation TAVR devices that are smaller, less invasive and cause fewer complications—it's an exciting time to be at the forefront of this technology, and to be advancing this field."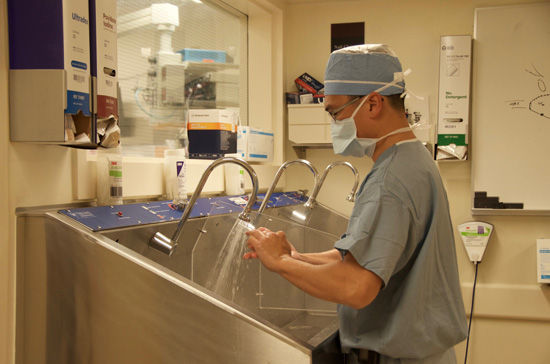 In addition to exploring a number of other research efforts, Pham is a co-investigator for two of the leading clinical trials in this area: The PARTNER II Trial: Placement of AoRTic TraNscathetER Valves Trial: SAPIEN XT Transcatheter Heart Valve, and the Transcatheter Aortic Valve Replacement System Pivotal Trial (SALUS).
Building on the expertise gained from TAVR, Northwestern Medicine is now offering the following minimally invasive, percutaneous heart valve treatment options:
TAVR:
PARTNER II: aortic valve replacement for severe aortic stenosis in intermediate risk patients
SALUS: aortic valve replacement for severe aortic stenosis
Valve-in-valve aortic valve replacement for severe aortic stenosis
Aortic valve replacement for severe aortic stenosis in high risk patients
COAPT: mitral valve repair for severe functional mitral regurgitation
Mitral valve repair for severe degenerative mitral regurgitation
SCOUT: tricuspid valve repair (annuloplasty) for symptomatic chronic functional tricuspid regurgitation.
TIARA: mitral valve replacement for severe mitral regurgitation.
"Some of these technologies are still investigational, but that's the wonderful thing about Northwestern Medicine and Bluhm Cardiovascular Institute: Because we are national leaders in heart valve disease treatment options, we work very closely with industry to develop new technologies," says Pham. "From surgeons to cardiologists to echocardiographers, we offer a breadth of heart valve disease expertise all in one institution, which is very attractive to our patients."
A focus on family
Pham says his passion for cardiac care is driven by this desire to help patients enjoy time with their families and friends and to live their most happy, productive lives.
"When I'm not doing what I do for a living, I'm pursuing activities that I want my patients to be able to enjoy, things like relaxing and spending time with family and friends, attending sporting events, and exploring the city," he says.
Pham's wife, Mi, is an architect; they've known each other for close to 25 years. Their 10-year-old daughter Josephine was born at Prentice Women's Hospital at Northwestern Memorial, and they have six-year-old twins, Ethan and Madeleine. The family is passionate about enjoying all that Chicago has to offer—including winter sports like hockey, figure skating, and snowboarding.
"For me, it's all about family," says Pham, "and helping people get the most out of life."
At Northwestern Medicine, we focus on cutting-edge technologies and research, because we want to provide our patients with the best care possible," says Pham. "Our patients' wellbeing and that of their families is foremost in our mind, whether it means providing them with the best standard, tried-and-true therapies for their valvular heart diseases, or cutting-edge investigational approaches. No matter what, we're here to help patients achieve wellness and live full lives."