Heart Valve Surgery Survey Results Available With Patient Surprises!
By Adam Pick - Patient, Author & HeartValveSurgery.com Founder

Recently, I coordinated an extensive online and offline survey of heart valve surgery patients and caregivers. The objective of this study was to better understand the impact and realities of heart valve surgery in their lives.
As a former, double heart valve surgery patient, I wanted to hear what other heart valve surgery patients and their caregivers had to say about this challenging medical prodcedure.
I have to admit, this was a very interesting and eye-opening study. Some of the results made perfect sense. However, some of the survey results were counter-intuitive. Finally, several survey results were quite shocking.
In addition to the online survey, I also interviewed many doctors, nurses, patients and caregivers in the hopes of helping future heart valve repair and replacement patients prepare for their surgical procedures.
Second Opinions Not Always A Patient Concern?
One of the most curious survey results contained within this study was specific to "second opinions". As I have written before in my blog, it is my opinion that obtaining a second opinion is a critical step leading up to a patient's heart valve surgery. (Especially with the recent, alleged medical frauds detailed and exposed in books like Coronary.)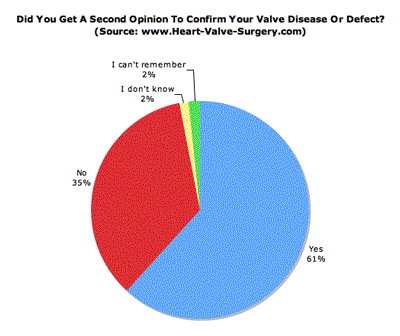 That said, one of the questions asked in this survey was, "Did you get a second opinion to confirm your valve disease or defect prior to surgery?"
I was definitely surprised when I saw the results shown on the figure below.
As you can see above, 35% of patients did not acquire a second opinion prior to having heart valve surgery. For me, this is a problematic, mis-step in the process leading up to cardiac surgery - regardless of whether it is either an open heart procedure or a minimally invasive valve procedure.
Again, it is my opinion that all future patients take the time to acquire a second everything - a second cardiologist, a second EKG, a second diagnosis, a second this and a second that.
Additional Findings From This Patient Survey
As for the other survey results contained in this study, over 35 multiple choice and essay questions were asked in this study. Those responses are included in the The Patients' Guide To Heart Valve Surgery (Revised Edition) available now in paperback or eBook.
A sample survey questions asked to former patients and caregivers in the 2010 study include: