AdventHealth Cardiovascular Institute
AdventHealth Cardiovascular Institute
AdventHealth Cardiovascular Institute
601 East Rollins Street,
Orlando, Florida 32803
AdventHealth Cardiovascular Institute

AdventHealth Cardiovascular Institute (formerly Florida Hospital) excels at the repair and replacement of heart valves. Recognized around the world for the volume of procedures performed, expertise and success, valve surgery has become a routine practice at our Institute. In 2017, AdventHealth performed more than 865 valve surgery patients (aortic valve and mitral valve combined), more than anyone else in the state. With outcomes exceeding expectations set by the Society of Thoracic Surgeons, our award-winning cardiac care program has also earned its solid reputation as a comprehensive training facility for visiting surgeons across the country and all over the globe.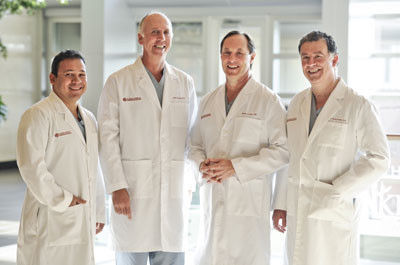 Learn more.
Center for Transcatheter Valve Therapies
AdventHealth Cardiovascular Institute has been selected as one of the first sites to offer the recently FDA-approved Edwards SAPIEN Transcatheter Aortic Valve Replacement (TAVR) as a treatment option for certain patients with inoperable, severe, symptomatic aortic valve stenosis. Patients eligible for this therapy have severe aortic stenosis and are experiencing cardiac symptoms such as shortness of breath, chest discomfort or syncope.
The Center for Valve Therapies is a multidisciplinary clinic that combines the efforts of referring physicians, cardiologists, interventional cardiologists and cardiothoracic surgeons to provide focused assessments and treatment options for patients with complex valve disorders. This collaborative approach offers patients exemplary clinical care through evaluations and advanced imaging. The multidisciplinary team also provides clear communication about recommended medical and surgical options to our patients and referring physicians.
Meet Our Heart Valve Specialists
AdventHealth Cardiovascular Institute has assembled a special team of heart valve specialists that are committed to getting patients the best results. Our team consists of many leading surgeons and cardiologists that you can learn more about by clicking the links below:
Our Patients Say

Hi there! My name is Denise Ring and I suffered from severe mitral regurgitation due to a mitral valve prolapse. Like many patients, I was scared and anxious before surgery. After surgery, however, I'm ... Read more.

Hello! My name is Scott Nieman. I am 42 years old. I was born in 1967 with aortic stenosis. Back then, the doctors did not operate on infants so it was not until I was 12 years old, and my condition became ... Read more.

Hi! My name is Duane Hunt, and I'm a 50-year-old Pastor from Winter Haven, Florida. My wife, Peggy, and I have been married for 32 years and have 5 grown children and 8 grandchildren.
I was ... Read more.
Have A Question? Call Beverly at (407) 809-8867
Hi, my name is Beverly Mansker and I am the heart valve clinic coordinator for AdventHealth Cardiovascular Institute.
At AdventHealth, we realize that patients who are facing heart surgery will encounter many challenges, questions and concerns regarding their treatment.
As a key member of our heart surgery team, I'm here to help you navigate the full spectrum of services -- from accessing the latest medical research, to psychological and nutritional counseling.
Whether its coordinating appointments, assisting with ... Read more.
Clinical References For Our Patients
To help you learn more about AdventHealth Cardiovascular Institute, here are references for you:
Schedule Appointment
To schedule an appointment, you can:
Call (407) 809-8867 right now
Request an appointment by clicking here.
Our hospital is located at 601 East Rollins Street, Orlando, Florida. For driving directions to this office, please click the map below.
> Click for driving directions.