Join 400 Patients LIVE on Thursday's Webinar with the Mayo Clinic!
Written By: Adam Pick, Patient Advocate, Author & Website Founder
Published: September 26, 2022
[Update: Great news! The webinar with the Mayo Clinic was fantastic! You can now watch a replay of the webinar video at this link.]
I'm excited to announce that our LIVE and FREE patient education events continue this Thursday, September 29 at 6pm EST, with a special webinar, "Advancing Heart Valve Calcification Treatment". Featured speakers include Dr. Juan Crestanello, cardiac surgeon at Mayo Clinic Minnesota, and Dr. Kristen Sell-Dottin, cardiac surgeon at Mayo Clinic Arizona and Dr. Basar Sareyyupoglu, cardiac surgeon at Mayo Clinic Florida.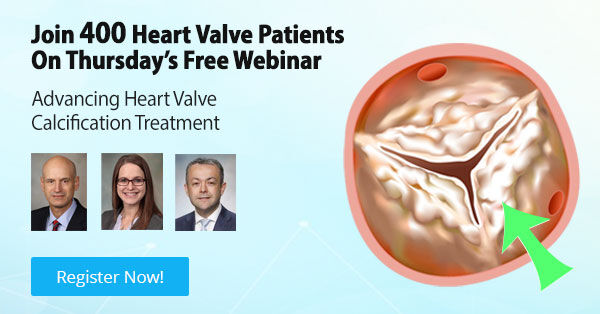 During this online event, you will learn answers to important questions including:
What is a calcified heart valve? What are the symptoms? What are the health risks?
How can calcium deposits on human heart valves impact cardiac function?
What surgical and minimally-invasive treatment options can fix calcified heart valves?
Why should patients establish a lifetime management plan for calcified heart valves with their medical teams?
What advice does Dr. Crestanello, Dr. Sell-Dottin and Dr. Sareyyupoglu have for patients with calcified heart valves?
At the close of the webinar, a live "Questions & Answers" session will enable YOU to ask the Mayo Clinic team your questions about calcified heart valves.
Keep on tickin!
Adam