Patient Webinar: Advances in Heart Valve Replacements
Written By: Adam Pick, Patient Advocate, Author & Website Founder
Published: September 27, 2021
[Update: Great News!  The "Advances in Heart Valve Replacements" webinar with Dr. Arghami and Dr. Eleid from the Mayo Clinic was an extraordinary success with over 500 patient registrations.  You can now download the free eBook and/or watch the webinar playback of this event at this link.]
I'm excited to announce that our LIVE and FREE patient education events continue this Thursday, September 30 at 5pm CST, with a special webinar, "Advances in Heart Valve Replacements".  Featured speakers include Dr. Arman Arghami, cardiac surgeon at Mayo Clinic, and Dr. Mackram Eleid, interventional cardiologist at Mayo Clinic. This one-hour webinar.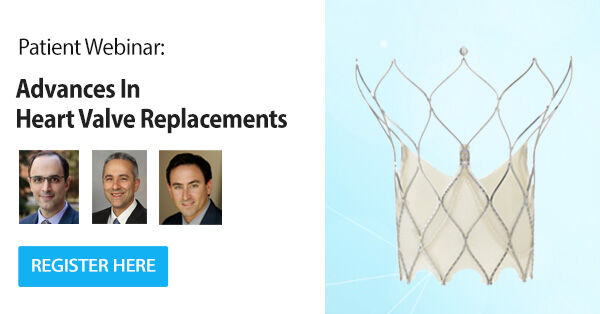 During this online event, you will learn answers to important questions including:
What should patients know about heart valve disease? What are the causes? Symptoms? Risks?
What is the history of heart valve replacement surgery? Is it safe? What are patient outcomes and success stories?
When is the best time to replace a defective heart valve?
What are the different types of heart valve replacement devices available to patients?
What are the advantages and/or disadvantages of each device type?
How are heart valve replacement procedures performed? Open-heart? Minimally-invasive? Transcatheter?
How might heart valve replacement devices evolve in the future? Are there innovations and clinical trials that patients should be aware of?
We will also have an interactive "Questions & Answers" session where YOU can ask your questions to Dr. Arghami and Eleid. This is going to be great!
Keep on tickin!
Adam
Adam's Newest Blogs
Adam's Newest Posts