UPDATE: Stress, Depression & Heart Disease Web Chat Postponed
——- UPDATE START ———
Hi everybody,
I just learned that the web chat, "Stress, Depression & Heart Disease", which was scheduled for today, has been postponed. According to The Cleveland Clinic, it will be rescheduled. When I learn more, I will let you all know.
Keep on tickin!
Adam
——- UPDATE END ———
Sorry for the last minute notice, but today at 12pm (EST), The Cleveland Clinic will host a special web chat titled, "Stress, Depression & Heart Disease".  Dr. Leo Pozuelo, who is the associate director of the Bakken Heart Brain Institute, will moderate this very interesting session.
As I personally experienced issues with cardiac depression following surgery, I encourage all patients to attend this event. So you know, my research suggests that up to 32% of patients can experience depression after heart valve surgery.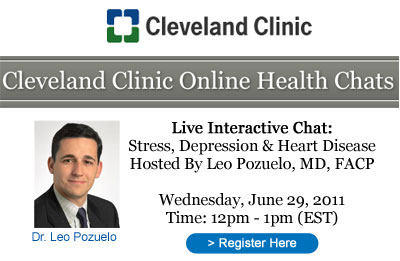 Keep on tickin!