Interview Playback: The Alliance For Aging and I Talk About Heart Valve Surgery
This is pretty neat…
One day, out of nowhere, I received a call from Lindsay Clark, Director of Health Programs, of the Alliance for Aging Research. If you didn't know, the Alliance for Aging Research is a non-profit organization dedicated to supporting and accelerating medical discoveries.
It turns out that Lindsay's team is currently working on some unique initiatives specific to heart valves – specifically aortic stenosis. As a result, Lindsay asked me if I would consider doing an interview to help educate patients and caregivers. I said, "Sounds great!"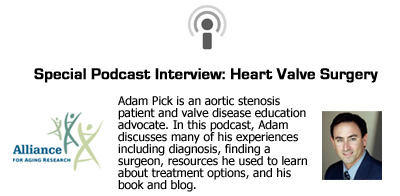 If you have any interest in listening to the 15 minute interview, simply press the gray, play button below. Also, the interview was done by telephone, so you may have to turn up the sound on your computer.
PLEASE NOTE: DUE TO BANDWIDTH LIMITATIONS ON MY SERVER, THIS INTERVIEW IS NO LONGER AVAILABLE. I WILL ATTEMPT TO REPOST THE INTERVIEW IN THE NEXT FEW DAYS. SORRY FOR THE INCONVENIENCE.

Keep on tickin!