Featured Heart Surgeon - Dr. Alfredo Trento
Cedars-Sinai Medical Center, Los Angeles, California
Dr. Alfredo Trento is widely respected for his skills in several areas of cardiac surgery, from traditional valve repair and replacement and coronary artery bypass, to cutting edge transcatheter, robotics and heart transplants. Minimally invasive techniques, such as the trans-catheter and robotic implantation of heart valves, empower surgeons to operate without even opening the chest. Dr. Trento has completed hundreds and in some, thousands, of operations in these major categories. Serving as Chairman of Cardiothoracic Surgery at Cedars-Sinai Medical Center in Los Angeles, Dr. Trento heads a world class department which was ranked 13th nationally by US News and World Report in 2011. As the holder of the Estelle, Abe and Marjorie Sanders Endowed Chair in Cardiac Surgery, Dr. Trento also serves as a distinguished professor of Surgery for Cedars-Sinai, training future generations of surgeons in his tradition of excellence.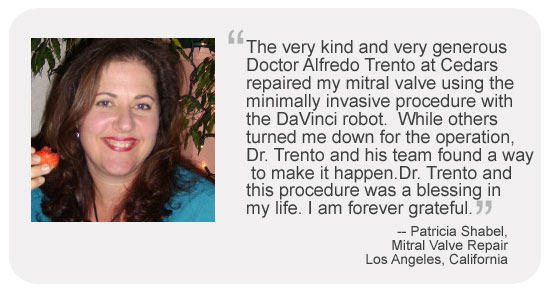 Already a renowned heart surgeon when he received his prestigious Cedars-Sinai appointment in 1988, Dr. Trento's career began with a simple fascination at the age of 19: his curiosity and awe for a muscle which never stops moving - more than 2.5 billion beats in a lifetime. The heart is a mystery that sustains every human life on this planet, and it has been his career mission to advance our treatment and understanding of it. Dr. Trento and his team are currently exploring the body's reactions to heart transplantation and why organs sometimes fail. Focused upon the potential of stem cells, new drugs and gene therapy, his research seeks to extend patients' lives by eliminating organ rejection and the need for additional transplantation surgery. Dr. Trento's work has been documented in nearly 300 scientific articles and 100 guest lectures around the world.
Dr. Trento's journey began in his home town of Venice, Italy. He earned his medical degree at the University of Padua, the oldest medical school in Europe. Residencies followed at the University of Massachusetts Medical Center and The University of Pittsburgh School of Medicine. While at the University of Pittsburgh, Dr. Trento's rise to prominence occurred during his service as a faculty member, where he was recognized as a leading authority in heart transplantation and valve repair. This notable professorship made him the ideal candidate for Cedars-Sinai, where he would provide the foundation for an entire generation of leadership in the field of heart surgery on the West Coast.
The broad scope of Dr. Trento's leadership has made him one of the founding members of the Heart Institute at Cedars-Sinai. The Heart Institute combines excellence in all aspects of heart treatment - from medical cardiology to cardiothoracic surgery, from research to women's health - and has created a single place where patients can come to seek answers to complex challenges. Today, at the Cedars-Sinai Heart Institute, Dr. Trento saves and transforms lives. His masterful surgical skills, compassionate patient care, and cutting-edge research have all enabled Dr. Trento to make a difference in cardiothoracic surgery across the globe. He is a visionary leader, pioneering surgical procedures that enhance patient's' lives and can change how heart disease impacts future generations. Dr. Trento is a leading surgeon, clinician, and researcher, who can always be found in the operating room, answering questions for families and encouraging patients on their paths back to healthier lives.