Free Book Excerpt – Heart Surgery Survey Download
As many of you know, during the past few months I have coordinated an extensive online and offline survey of seventy eight former, heart valve surgery patients. The objective of this study was to better understand the impact and realities of heart valve surgery in patient's lives and the lives of their caregivers.
As a former, double heart valve surgery patient (aortic and pulmonary valve replacement), I wanted to hear what other heart valve surgery patients had to say about this complex medical procedure.
In my opinion, this was a very interesting and very eye-opening study. Some of the results made perfect sense. However, some of the survey results were counter-intuitive and unexpected. Finally, a few of the survey results were shocking – especially the survey results about second opinions.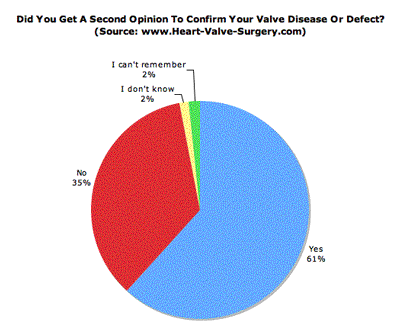 As you can see in the chart above, 35% of heart valve surgery patients failed to acquire a second opinion prior to their heart valve repair or heart valve replacement operations. Given the recent allegations and settlements of fraudulent diagnosis in cardiac care centers, I believe this is a problematic, missing step in the path leading up to heart valve surgery.
In addition to the online survey, I also interviewed many surgeons, doctors, nurses, patients and caregivers in the hopes of helping future heart valve repair and heart valve replacement patients prepare for their surgical procedures.
I thought you might like to see select results of this unique, patient-centric survey. Therefore, I have created a book excerpt which contains certain patient survey results. A full copy of the 2007 Heart Valve Surgery Survey is contained in my book, The Patient's Guide To Heart Valve Surgery (Revised Edition).
To download your complimentary copy of the 2007 Heart Valve Surgery Patient Survey – Book Excerpt, please click here. The book excerpt should download within ten seconds.

Also, I am currently preparing a 2008 Heart Valve Surgery Patient Survey. If you are interested in participating in that survey, please email me at adam@Heart-Valve-Surgery.com. I am also looking for people to help me revise and edit the survey instrument.
Until next time…
Keep on tickin!