Featured Heart Surgeon - Dr. Patrick McCarthy
Northwestern Memorial Hospital, Chicago, Illinois
As chief of Cardiac Surgery at Chicago's Northwestern Memorial Hospital, Patrick M. McCarthy, MD, has distinguished himself as a talented researcher and mender of hearts. Throughout his decades of experience, he has performed more than 10,000 heart operations, authored hundreds of papers and book chapters, served as an officer in numerous professional societies, given more than 600 lectures on six continents, and been on the board of seven medical journals.
His professional path is filled with diverse accomplishments, and he's known around the world for excelling in research and teaching others. But when it comes down to it, McCarthy says his passion for heart surgery is rooted in a simple goal: "I love surgery because you can really fix things, and see a dramatic response in patients—probably no more so than in cardiac surgery," he explains. "The work we do helps people live the lives they are meant to."
A family history of helping people heal
Growing up with a father who was a surgeon, McCarthy can't remember a time he didn't consider working in medicine. "Since I was a little kid, I thought about being a doctor," he says.
In December 1967, McCarthy joined his father to watch news of the first human heart transplant on television. Later, he would go on to train at the Mayo Clinic. "At that time, Mayo was doing amazing things, valve repair was just beginning—a lot of new things were starting in cardiac surgery and it was an exciting time," says McCarthy.
Although he briefly considered working in archeology when he was at Notre Dame, another field known for its strong emphasis on research, McCarthy ultimately followed his passion for helping people and studied to become a heart surgeon.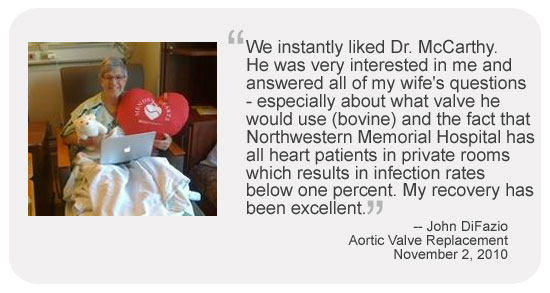 A background rich in research
McCarthy began his medical studies at Loyola University Stritch School of Medicine in his native Chicago. He completed both a residency and fellowship in cardiac surgery training at Mayo Clinic-Rochester, and an additional fellowship in heart and lung transplantation at Stanford University Hospital and Clinics.
In 1990, he began practice at the Cleveland Clinic Foundation; by the time he left in March 2004, he had become the Clinic's surgical director of the Kaufman Center for Heart Failure, and its Director of Heart Transplantation. During his tenure, his team set the U.S. record for most heart transplants; they focused on researching, developing, and performing advanced procedures using ventricular assist devices (VAD), valve repair, and the Batista procedure.
Sweet home Chicago
McCarthy moved back to Chicago and joined Northwestern Memorial Hospital in 2004, where he is the director of the Bluhm Cardiovascular Institute. His focus now is on heart valve surgery—including atrial fibrillation and the maze procedure—which he says occupies about 90 percent of his time in the operating room.
But outside of the surgical suite, McCarthy spends much of his time on research and teaching. As the first Heller-Sacks Professor of Surgery at Northwestern Feinberg School of Medicine, he has trained close to 100 fellows and residents—not to mention hundreds of medical students—in heart surgery.
That element of McCarthy's work earned him the Thoracic Surgery Residents Association Socrates Award in 2008. "Part of what I do is set an exceptional standard for students when it comes to heart surgery," says McCarthy. "To be nominated by my residents and win that award is very nice; it's the award I'm most proud of."
Innovation through collaboration
McCarthy currently is working with a project called NUvention, an interdisciplinary experiential learning program based at Northwestern University's Evanston, Illinois campus. Working with a team of students and faculty, he is able to explore some truly unique methodologies—including new techniques for medication delivery post-surgery and employing nano-technology to decrease inflammation after surgery.
"We're exploring many novel concepts that have not been considered before," says McCarthy. "That's the advantage to a university—we can leverage the experience of the outstanding group of students and faculty at Northwestern University."
When he's not at work…
…he's at play. McCarthy makes an effort to fill his hours with outdoor activities that are family-focused. When he can, he spends time in his cherry and apple orchard near Traverse City, Michigan—which Good Morning America just named the most beautiful spot in the U.S. He makes sure to spend quality time with both of his children, who also live in Chicago. And like their father, his daughter and son are in the business of helping people: she is an attorney, and his son is a surgical resident.
He loves to play golf once or twice a week, but his free time will soon be occupied with more indoor activities: he is about to become a grandfather for the first time.