Featured Heart Surgeon - Dr. Edwin McGee
Northwestern Memorial Hospital, Chicago, Illinois
Edwin C. McGee, Jr., MD, is in the business of fixing hearts. A cardiac surgeon at Northwestern Memorial Hospital in Chicago (and surgical director of its Advanced Heart Failure Program, which includes the Heart Transplantation and Mechanical Assistance Program), his focus is often on the mechanics of his work. But there are other driving forces behind his passion for helping people.

"As a heart surgeon, I see people with a wide variety of issues, including bad heart valves," says Dr. McGee. "What's so valuable about fixing valves is that we can make the heart more efficient, which sometimes eliminates the need for further heart surgery.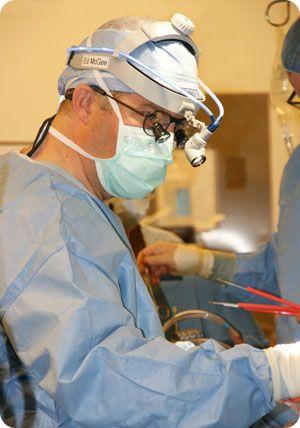 "Clinically, what really juices me is to see people who are desperately sick, get treatment, and go on to live much healthier lives," says Dr. McGee. "We're all on a razor's edge; people get struck down unexpectedly. So it's very rewarding to get in on the action and return them to a more normal life.
"That's the thing that keeps me in this business. It's a very gut, primal thing for me. I love to see people get better," he says.
Early exposure grew his interest in a team approach
As a teenager, Dr. McGee saw his father's work as a general surgeon up-close and personal, working as an orderly in the operating room and transporting patients.

"That exposure of working in the O.R. was very valuable; you get to see it from everyone's perspective," he explains. "The work we do—we're not in a vacuum," he says. "You work closely with physicians, nurses and others; you work with the whole team."
Dr. McGee says he values working closely with a team as he cares for patients, an approach that's fostered throughout Northwestern's Bluhm Cardiovascular Institute. He joined the Northwestern Memorial team in summer of 2004.
The road to heart surgery


Why focus on the heart? During his early exposure to medicine, he found that, "the only thing I really liked was heart surgery. You could fix something. It was very mechanical. The person got better," he says. "I wanted to do something worthwhile with my life, and medicine was a good expression of that. I very much found my calling in cardiac surgery."
Dr. McGee graduated from Vanderbilt University's School of Medicine in 1993, and completed his internship as well as his general surgery and thoracic surgery residencies at Massachusetts General Hospital in 2002. He completed a fellowship in transplantation, heart failure and mechanical assistance at the Cleveland Clinic Foundation in 2003-04 and served as a research fellow at the National Cancer Institute at the National Institutes of Health.
Dr. McGee is board certified in surgery and thoracic surgery and has been inducted into both the Phi Beta Kappa and Alpha Omega Alpha honor societies.
Teaching, research and more
Dr. McGee shares his passion for medicine through a position as associate professor of Surgery at Northwestern University Feinberg School of Medicine.

His areas of focus include heart failure, heart valve repair and replacement, heart transplantation, mechanical assistance (VAD, LVAD), coronary bypass surgery, endocarditis, maze procedure and re-operative surgery.

"Each patient is unique. Each heart is unique. We have so many ways to treat people, so I always work to match the most appropriate procedure to each patient, to ensure we get the best possible results," says Dr. McGee.
In addition to his work with heart valve repair and replacement procedures, Dr. McGee spends time researching novel ways to use heart assist devices (called VADs and LVADs)—always staying on the front line of research in order to help some of his most critically ill patients. Dr. McGee performed a procedure where one VAD was implanted (or placed) into each ventricle of the patient's heart, known as biventricular configuration or BiVAD, until a donor heart became available. This surgery marked the first time in North America when two HeartWare ® VADs were implanted into a single heart. VADs take over the pumping action of the heart for patients with severe heart failure.
When he's not mending hearts…
"There's only so much of the fluorescent lights I can stand," says Dr. McGee. His wife, Dawn, is also a physician, and their two sons, ages 10 and 7, keep the family busy. McGee makes time for solo pursuits, like duck hunting with his Labrador retrievers. And he loves spending time outdoors with his family.